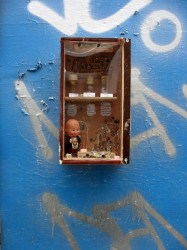 Look what popped up on Slater Street today: Ye Olde Apothecary, starring MAYOR LARRY O'BRIEN!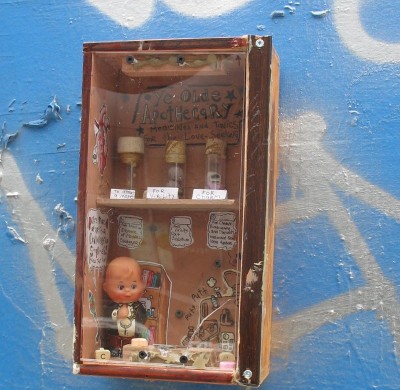 Here's a closer look. (All the pictures can be enlarged by clicking on them. You probably knew that already.)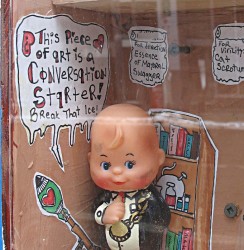 "This piece of art is intended as a conversation starter."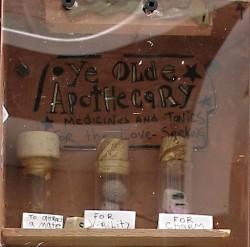 This is what they sell at Ye Olde Apothecary: Medicines and Tonics for the Love-Seeking.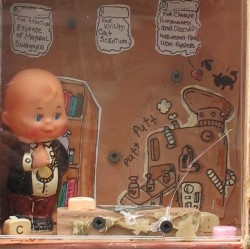 And this is how it's made:
For Attraction: Essence of Mayoral Swagger.
For Virility: Cat Scrotum.
For Charm: Pompousness and Obscurity harvested from local hipsters.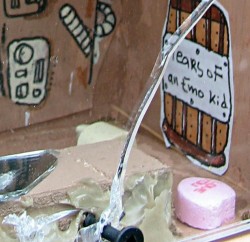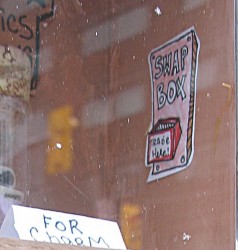 And look! There's a swap box on the wall of Ye Olde Apothecary!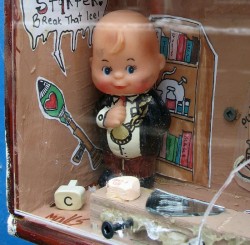 If there was ever any doubt that Maks (aka Elmaks, and aka The Swap Box Artist) created the Mayor Larry Nativity Scene or this piece, I'm happy to report he actually signed this one.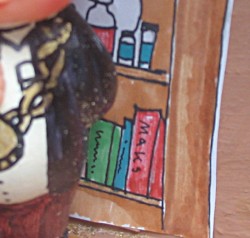 Twice!
You should go downtown and see it for yourself, because it's fantastic and I didn't manage to capture everything with my camera, and besides, it's just better in real life. It's on the south side of Slater Street just east of Bank Street.
When I discovered it, Ginette, who is one of my favourite panhandlers, was standing right beside it, panhandling. Needless to say, most of the passers-by weren't even noticing the Apothecary because they were making a point of walking past Ginette without looking at her.
She and I chatted while I took pictures of the Apothecary.
She told me she just had dental surgery a couple of weeks ago and had all her front teeth removed. She hasn't been able to eat much since then.
I asked her where she stays, and she told me she's got a place, but after she gets her cheque and pays for rent and other fixed expenses, she's lucky if she's got $100 left for the month. That's why she panhandles.
I think she's probably in her forties. Anytime I've seen her, she's been quiet and inconspicuous, standing out of the way with her hat out, softly asking passers-by for a little help.
She said on a good day she might make ten dollars. Most people ignore her, but some people are nice and help out if they can, or at least smile and say hello. Some people aren't very nice though: they just tell her to get a job.
"I guess they think it's easy standing in the cold asking strangers for money," she said, "It's not. But I always smile at people, even when I don't feel much like smiling."
She smiled a bit sadly.
"I haven't felt much like smiling lately," she said, "ever since I got my front teeth out."
"You still have a beautiful smile," I told her. And she does. Her smile is not just her mouth: her eyes and her cheeks and her whole face light up, even when she smiles just a little smile.
I wish Mayor Larry could have seen Ginette today, standing in the cold beside the Mayor Larry Apothecary, smiling self-consciously and asking strangers for money.
I'd like to see if he could look her in the eye and still call her a pigeon, and then go put a dollar in the Kindness Meter instead of giving it to her.
TAGS: