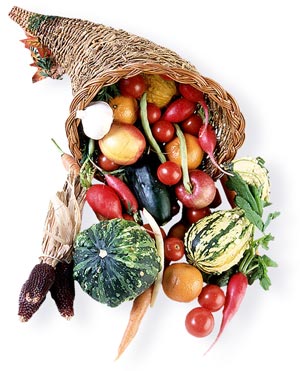 Years ago I saw this doctor or nutritionist on TV who said "The average family has a repertoire of ten dinners. That's it. Ten dinners that they eat almost all the time. If I could replace your ten dinners with ten healthier dinners, I could add years to the lives of everybody in your family."
He went on to say that his goal would be to find ten healthy, affordable dinners that we liked just as much, found just as convenient to prepare, and could easily keep the ingredients on hand to make.
I eat a lot healthier than I did when I was younger (piece of cake), but I'm not obsessive about it. Nor do I want to be. But I do like the idea that if there's going to be a lot of repetition in my diet, it might as well be healthy tasty repetition rather than unhealthy tasty repetition.
I don't even think I have ten meals in my current repertoire. I actually don't cook all that often. Last night I had a bowl of Raisin Bran for dinner, with yogurt on top. I bet I eat that for dinner three times in the average ten-day stretch.
Turkey soup is in my repertoire too. I make a huge batch of turkey soup maybe three times a year, and freeze it. It keeps me going for months. I eat turkey soup for dinner probably twice in every ten-day period.
And pizza. I make good pizza. I make the dough in the breadmaker and I top it with lots of veggies and apples and pears and hot Italian sausage and four different cheeses.
Baguettes. I love baguettes. Sometimes I just eat half a baguette for dinner, with a little cheese or cold cuts or something if I'm feeling sophisticated. (I'm kicking this one out of my repertoire though, and banishing it to the 'occasional treats' list.)
Sunday night I cooked a real meal because I wanted protein. I made a filet mignon, fried onions, asparagus broiled with balsamic vinegar and parmesan, broccoli, and a hunk of a baguette. This meal was a rare treat, and probably not especially healthy, but I'm adding it to my ten-meal repertoire effective immediately. (It feels a little weird making a meal like that when you live alone, but I can't think of any good reason not to.)
Hmmm….even with the filet mignon, I still only have four dinners in my repertoire: Raisin Bran, turkey soup, pizza and filet mignon.
Do you have a healthy, easy, yummy meal I can add to my ten-day repertoire?
TAGS: