Okay, so I mentioned in passing that Duncan was a bad cat, and it seems to have piqued the interest of a number of readers. Judging by the comments and emails, "Duncan was bad last night" is the most intriguing thing I've said in a long time.
So. What did Duncan do?
Well. As you know, Duncan is usually a very lovey cat at bedtime. But sometimes he's a little, well, overly lovey. And he's no lightweight, so when he gets it into his head to be overly lovey, he is not easily dissuaded.
So last night and the night before, Duncan gets into bed with some serious lovin' on his mind.
Now, something I haven't told you before: Duncan always prepares to lie down. He has to line himself up just so and then drop his legs out from underneath him and fall over to one side. I think it's because he's so big. So he lines himself up just so, leans towards my head and drops his legs out of the way and thump! lands on my shoulder with his cheek aligned with my cheek. It's an art. But there are no accidents. The weight of him pins me in place. Then he unsheaths his claws and starts kneading my chest with them.
"That hurts," I say, unhooking his claws from my skin and holding them back.
"PUUUURRRRR," growls Duncan insistently as he frees his claws, reinserts them under my skin and leans in to lick my eyes with his IAMS turkey breath.
"Duncan, that's just not nice," I say, pushing him away slightly.
"PURRRRRRRRRRRR!!!!" growls Duncan menacingly as he reinserts himself, licks my lower lip and shifts more of his weight onto me.
"Ugh!" I say, and try to roll away from him, but I'm limited by the fact he's got my shoulder pinned. In the dark it almost looks like he's leering at me, but that's probably just my imagination.
We then spend the next few minutes negotiating our boundaries, after which we fall asleep for about six hours.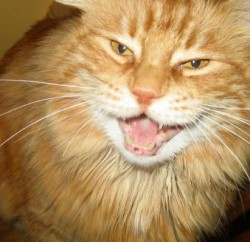 At 4:30 a.m. Duncan makes a unilateral decision and a grand proclamation: It Is Time To Feed The Cat.
He announces this decision by purring loudly and meowing incessantly and poking his claws into my skin repeatedly.
I might not have been the best mother in the world, but I did do a couple of things right. And one of them was I never caved in to whining or temper tantrums, because it doesn't make sense to reward the behaviour you don't like. So whenever my son whined, I would just cheerfully say "Oh, I don't like that noise. Would you mind finishing whining in your room, and then come back out when you're done?" And being the sweet, easy-going and accommodating child he was, he would toddle off to his room, say "Whi-i-i-i-ine" a few times in his best whiny voice, then come back out and announce, "All done whining, Mom." It worked like a charm. His whiny phase only lasted a few weeks and then he never whined again. EVER.
So when Duncan started whining for food at 4:30 in the morning, I refused to feed him. My plan was to wait for the whining to stop and THEN get up and feed him. Only the whining didn't stop. It went on and on and on and on and on and on and on. I timed it: he meowed 24 times a minute for two and a half hours. And because it wasn't working, he added a few other charming little tricks to the mix, like plucking my ear with a single claw, licking my eye sockets, stepping on my nipples, and biting my head.
And then finally, FINALLY, at 7:00, I pushed him off the bed, and he went away for a few minutes, which gave me that window of opportunity to get up and go feed him while he was NOT whining. Of course the minute he saw I was up, he started whining again with renewed vigor. I'm pretty sure he attributed the fact that I fed him to his successful whining. I might have won the battle of wills, but in the end it was all for nothing.
It's a good thing I'm crazy about this cat.
Tags: