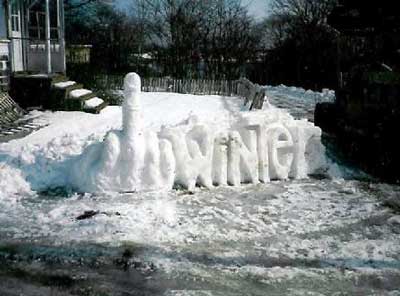 Someone emailed this to me today. I don't know who to credit for the snow sculpture or the photograph, but they probably live in Ottawa.
I should have stayed home today. I had to take the bus both ways because the sidewalks hadn't been plowed and the 28 centimeters of snow-mixed-with-ice-bullets was too deep and heavy to walk through. I spent three hours either on buses or waiting for them today.
I was talking to a woman on the #14 this morning who told me that she spent two hours last night trying to break the ice that had glued her garage door shut. Her snowblower was in the garage.
On the way home, the #14 got stuck at Carling and Fisher and the driver's attempts to free it resulted in something burning and stinky smoke billowing in the back door. It was a very crowded bus. I started thinking about what would happen if the bus caught on fire. Bus passengers have to be pushy at the best of times to get on and off crowded buses. It's survival of the fittest. I'm pretty sure a burning bus would not bring out the best in us.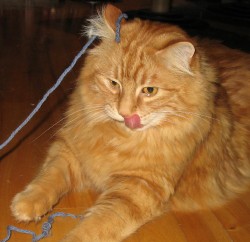 On the bright side, my son came over tonight. We had dinner and an income-tax party and he taught Duncan how to play!
Dinner was one of the meals you suggested (chicken breasts flattened and dredged in flour and cooked in wine and lemon juice and capers, served with a rice and black bean side dish and steamed brocolli and dinner rolls – yummy).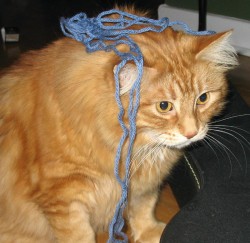 I told James I'd eat my hat if he could get Duncan to play, and sure enough Duncan found him irresistible.
Anybody got any good hat recipes?
TAGS: