So. I see reverse psychology does not work on Old Man Winter as well as it does on cats. I figured if I pretended to like him, he would back off and play hard to get. Ha. Forty-five Fifty-six centimeters later, I concede defeat: I am no match for the wily ways of Winter.
Yesterday's storm had something for everyone, including some thunder and lightning for those who like a little extra drama.
I will say snowstorms are much more pleasant when you don't have to go anywhere. If you've done some anticipatory meeting of your needs and laid in a good supply of food and movies and booze and yarn, you can burrow down into your own little world for some very pleasant me-time. I hope you enjoyed the storm as much as I did.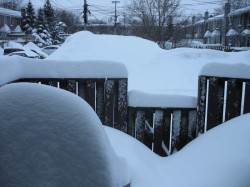 This morning I got up and ran to the window like a little kid, to see what the world looked like. It was gorgeous. This is my back yard, as seen from my back door.
I fed Duncan and put on my Deep Snow Sorrel boots, then went out to shovel. It was gorgeous and deep! I had a little trouble getting my front door open – a few more inches and I might have been literally snowed in.
I shovelled my snow and my neighbour's snow. Even though there was massive amounts of it, this snow was mercifully light and fluffy. (By the way, do you think Rob Werstine has any idea how annoying Ottawa finds him?)
Then I grabbed the camera and went for a stroll around my neighbourhood. If you haven't done this yet today, I urge you to stop reading my blog and go for a stroll around your neighbourhood. Don't forget your camera. I'll wait right here for you.
Here's what my neighbourhood looked like at 8:00 (Daylight Savings Time) this morning:
Some of the houses were looking pretty short: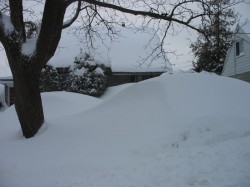 Yesterday's news: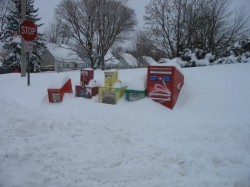 Bus Shelter From the Storm: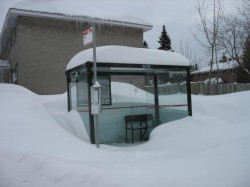 The Ethiopian Church didn't just look pretty, it sounded pretty too because people were inside singing: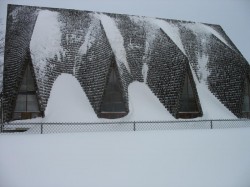 I leave you with this. Lord knows I have no right to call myself the Fashion Police, but here's What Not to Wear, ever, under any circumstances, even if you're just cleaning the snow off your car: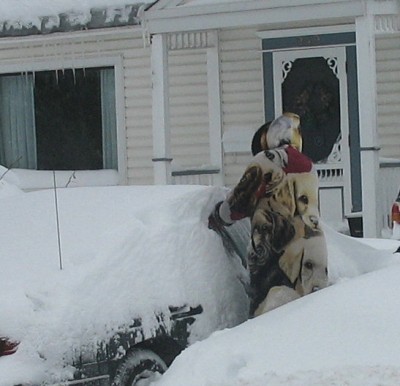 TAGS: