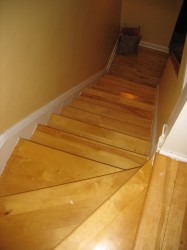 I fell down the stairs today. I was expecting to fall down the stairs sooner or later, but I assumed it would be the icy outdoor stairs. No. It was the indoor stairs.
I was heading down the stairs with my cat and my coffee cup, in my nice warm toasty thick slippery socks, and on the second step my foot just kept going and I flew up and then down and landed on the stairs on my ass and my spine, and then proceeded to slide and thump, feet-first, down the entire flight of stairs like this: "OW OW FUCK OW FUCK OW FUCK FUCK FUCK OW FUCK OW OW."
I didn't stop till I ran out of stairs. I lay there dazed for a few seconds, and then peered back up the stairs to see Duncan at the very top staring down at me like I'd gone mad. He thought I'd done it on purpose!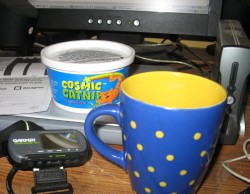 I stood up and checked out the damage. Several vertebrae were bruised, my butt hurt, two nails were broken and one finger was bleeding. I was oddly pleased with myself for not having let go of my favourite cup throughout the entire accident: it escaped unscathed. I got it at a garage sale a few years ago and I like it a lot.
I put on some more coffee and some no-slip slippers and made a mental note to do something about those stairs before I get old.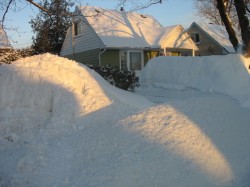 The other thing that's new is I've decided not to hate winter anymore. If we get 84 more centimeters of snow, we'll have snagged the record for the snowiest winter ever recorded in Ottawa. Besides, once you've got this much snow, what's a little more? We're getting up to 50 centimeters this weekend; then we'll be within spitting distance of the record.
I say we've come this far, let's go for the gold! BRING IT ON!!
TAGS: