It was a year ago today that Sam took his last walk, and his last breath. Time has done that weird elastic thing time sometimes does, and that year feels like a lifetime and a heartbeat at the same time.
For awhile there, he remained imprinted on my senses all the time. His almost-thereness echoed in the empty space where he wasn't. He was an invisible, empty, pulsing shape. He was my phantom limb.
Now, I don't even miss him anymore.
But I remember him. My screensaver at work is a slideshow of photos of various people I know, and one of them is a close-up of Sam staring straight into the camera. He's stoned from a sedative to control his demented anxiety. It's the Diane Arbus of dog photos. Sometimes when I come back to my desk and that picture is displaying, I am overwhelmed by profound fondness and I want to just cup his snout in both hands and kiss his soft wet nose and tell him it's going to be okay.
But the rest of the time? I don't even miss him anymore
Except this winter, when there was all that snow. He would have loved this winter. He loved to roll in snow and to plunge his whole head into deep soft snow and then pull it out and look at me intently with his head cocked slightly to one side. His whole being would radiate pure energized joy. For a moment I would know in my heart that the meaning of life is to plunge your head in deep soft snow. I wish he could have lasted for one last winter.
I remember how much I agonized over the timing of the decision to have him put down. It is a terrible responsibility to have to decide whether someone else's life is still worth living. The trajectory of his decline was not straightforward – he had good days and bad days, sometimes even good weeks. Two steps forward, one step back, one step sideways. A slight improvement in one symptom would often be accompanied by a marked decline in another. His arthritis and mobility would improve, but his dementia might intensify. His anxiety might diminish a bit, but his tumour would become infected again.
In retrospect, I realize it was the forest and the trees. You get used to each deterioration, each step of decline. "Normal" keeps changing, and you keep adapting to it. Towards the end I was wiping blood off the walls and cleaning excrement off the floors on a daily basis, while still searching for signs that "it was time."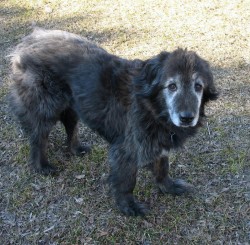 But even now, as I look back at the pictures taken one year ago today, I hear the little voice of doubt. He looked okay. He walked to the vet's office. He wasn't on death's doorstep until I delivered him there. "Are you sure it wasn't premature?" The little voice is not a kind one. But it's okay: the little voice is wrong.
I worried about inflicting lifelong guilt on myself by making the wrong decision (or, more accurately, the right decision too soon). But I am confident I made the right decision, and in retrospect, I think there is no exactly right time: there are large brackets of time, and I was well within the brackets.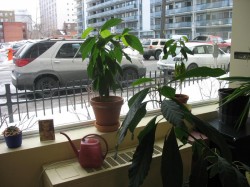 I kept a few things to remember Sam by. His collar and leash. Two ziplock baggies of fur. An avocado tree that I planted from seed the day he died. Some memories.
In the end it's enough, because it's all there is.