Little things are pissing me off today and I don't know why I'm wasting cycles on them. They're not worth getting pissed off about, and if they WERE worth it, I'd be pissed off all the time because there's nothing unusual about any of it – it's just normal everyday stuff.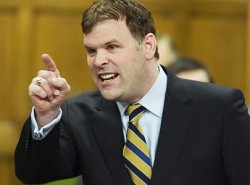 1. The mail I got from Conservative MP John Baird, beating the drums to make Canadians get all indignant about house arrest. Far better that we overcrowd our prison system and force the construction of new prisons at huge public expense, than use alternative sentencing programs for prisoners deemed not to pose a real threat to the rest of us. (And okay, some people might disagree with me and that's fine. But what the hell is John Baird doing using taxpayer dollars to try to create the illusion of a problem and generate public outrage where none exists? Are there no real problems for the Conservatives to solve?)
The flyer has a photo of a "criminal" in an undershirt sprawled on a couch drinking beer. It says "Why should convicted thieves, arsonists and vandals serve their sentences watching TV, playing video games and surfing "websites" on the internet?"
It pisses me off on so many levels, including why the hell is "websites" in quotation marks and isn't 'websites on the internet' redundant?
There's a little tear-off bit for me to answer a question so oversimplified as to render it meaningless: "I think thieves and vandals should serve their sentences in jail." My choices are Agree and Disagree – there's no space provided for comments.
I hope Mayor Larry drags John Baird down with him. Grrrr.
2. Oprah's The Big Give. I haven't figured out why I hate it so much, but oh my god it's making me seethe. I didn't watch it all but of the parts I saw, this was the worst: Why would anybody think that a mad dash through a toy store grabbing everything in sight would help small children deal with their father's recent murder??
3. The fast food commercial with the kids and the parents reversing roles and the parents have a meltdown because the kid won't take them to Burger King. And the parents start crying and saying "You promised, you totally lied!" and finally the kid says in a dispassionate yet contemptuous tone, "All right, get in the car." I HATE this commercial. I think it illuminates everything that is wrong with crappy families and tries to make it seem funny when it's just plain pathetic.
I feel much better now. Thank you.
TAGS: