A week or so ago Susanna suggested in the comments that Duncan might be an orange Norwegian Forest Cat. I'd never heard of the breed, but I liked how exotic it sounded. I searched for images and concluded that oh yes, Duncan comes from a long line of Norwegian Forest Cats. These are not dainty little house cats. These are magnificent beasts. Survivors. Vikings!
Here's a picture I found on the Internet: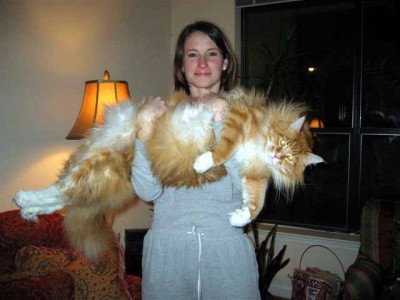 And this is Duncan: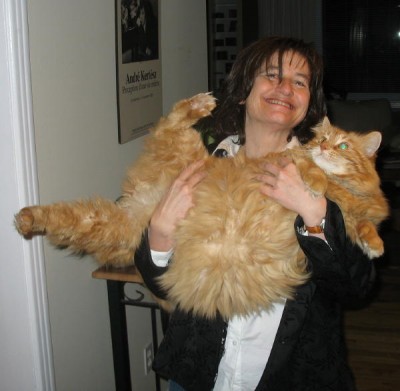 Okay hers is longer and fluffier and mine is oranger and more muscular. But apart from that, they're practically twins!
Let's turn now to the history and description of the breed and see how Duncan measures up.
From the Cat Fanciers' Association:
"These are the cats that explored the world with the Vikings, protecting the grain stores on land and sea, and which are believed to have left their progeny on the shores of North America as a legacy to the future."
Oh yeah, Duncan could totally sail the high seas with Vikings and protect their grain stores. And he'd be all over that progeny thing if he wasn't neutered. I sleep with him every night and I'm certain of it.
From Wikipedia:
"The Norwegian Forest Cat is …. adapted to a very cold climate."
Duncan hasn't complained – not even once – about this godforsaken winter.
"In Norway they are known as Skogkat: Forest Cat. They emerged from the Scandinavian forests 4000 years ago."
Yesterday I casually said "So Duncan, do you think you might be a Skogkat?" and he looked at me sagely. I think that says it all.
"Norwegian Forest Cats have a thick fluffy double-layered coat, tufted ears and a long bushy tail to protect them against the cold. Their coat is essentially waterproof due to its coarse outer layer and dense underlay."
Yes! Duncan's got it all going on with the Norwegian Forest Cat coat.
"They are very large cats with adult males weighing 6 to 10 kg (13 to 22 lb), while females are approximately half that size. Their hind legs are longer than their front legs."
Duncan currently weighs 9kg. His hind legs might be marginally longer than his front legs, but every time I try to measure them, he sits down.
"They are very intelligent, playful cats that enjoy human company."
Duncan's a genius and he loves human company. (He's not playful though. Honestly, he can barely bring himself to watch me play with his toys.)
From the Norwegian Forest Cat Club:
"they have a particular liking for water, with the ability to catch fish in lakes and streams"
I haven't had him during fishing season yet, but he does love water. He dangles a paw in the tub while watching me bathe.
"These lovely cats are really two for the price of one, they can differ so greatly in looks from summer to winter. Some time in the spring they take off their "winter underwear," the downy undercoat that provides warmth, and the long non-tangling outer guardhairs that act as protection from rain and snow."
I've only had him for one season, but if Spring ever arrives I'll be watching eagerly when he takes off his winter underwear.
"A question frequently asked is about the care the long coats require. As one breeder is fond of saying: 'Mother Nature does not have hairdressers in the deep woods, so she did not design [the Norwegian Forest Cat] to require the daily attention necessary to some other longhaired breeds.' "
Duncan hardly sheds at all. He's had no knots or tangles, just a tiny mat on his throat. He's surprisingly low maintenance from a grooming perspective.
Speaking of grooming, I just got my hair cut. This is what it looks like when the hairdresser styles it. I tried doing it myself once, but the round brush got hopelessly stuck in my hair, right up against my scalp. I thought I was going to have to go downtown on the bus with a brush stuck to my head and get my hairstylist to remove it. I did manage to get it out, but since then I have left hairstyling to the professionals. I only look like this picture four days each year.