Today was a lump-in-my-throat emotional kind of day. It got off to a lumpy start, and then the lump just stayed pretty close to the surface for the rest of the day.
On my walk to work, I came across a dead duck on Prince of Wales Drive. Roadkill. It was very sad. And pointless too, because he had wings and he could easily have flown across the road. He didn't need to waddle through traffic.
And then, if that wasn't sad enough, I spotted his widow keeping vigil on the other side of the road, just sitting in the grass looking lost and shocked.
I've seen this pair before – they always hang out in the same vicinity – and they looked much happier when they were both alive.
Mallards are one of those species that mate for life, which makes it infinitely more heartbreaking.
I crossed the road to see if she was okay, and she didn't even budge until I got about two feet from her. Then she moved a few feet away. Poor thing. It was so sad. I wanted to do something to help, but what could I do? The only thing I could think of was to bring his body over to her, so she could get some closure.
But that just seemed weird. And it did occur to me that I was projecting human feelings onto the duck, and who knows what ducks really think and feel? But they must feel something if they mate for life, don't you think? Do you think they grieve?
I didn't do anything because I couldn't think of anything helpful to do. I just told her I was sorry. I had a big aching lump in my throat.
A few minutes later I was crossing through a park to Carling Avenue, and the lump was starting to recede. That's when I saw the dead frog in the middle of the path. It wasn't as sad as the mallards, but it was sad enough to make the lump swell up again.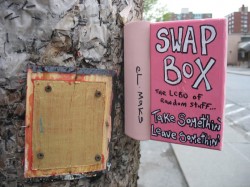 I felt a little better on the path beside the train tracks because I saw a bunny and it was alive. And then I cheered up some more when I got downtown and saw the new Swap Box where the Mayor Larry Swap Box used to be – thank you Elmaks. I left a Tarot card in the swap box and continued on to the gym.
Afterwards I went to a meeting and the lump came back and I was sitting there wondering why I was feeling so emotional about this meeting and was anybody else feeling the same way or was it just me?
After the meeting one of my friends stopped by my cubicle and asked "What did you think of that meeting?" and I tried to say something but the lump got in the way and then I was trying really hard to fight back the tears. (I wasn't successful.) (I hardly ever cry at work.) (I wonder why it's easier to listen without crying than it is to talk without crying?)
I walked home after work and looked for the ducks, but both of them were gone. I wonder where she went. I still wonder what she's thinking and feeling.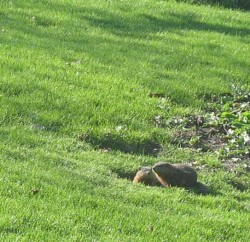 Near where the ducks had been, I saw my first two groundhogs of the year. I love groundhogs.
TAGS: