Remember the baby snake charmer sweater that I managed to cut a hole into just as I was putting the finishing touches on it? Well. Word spread like wildfire and within moments of returning from her holidays, my knitting guru was at my desk, surveying the disaster area . Then she took a day or two to contemplate various solutions to the problem. And then! She. Fixed. It. I'm telling you, this woman can work miracles.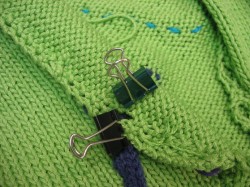 I'm not sure I completely understand how she did it, but the surgery went something like this:
1. Clamp the cut ends of yarn with binder clips (David Scrimshaw! Did you hear that? ) to prevent them from unravelling further.
2. Lasso each of the cut ends of yarn with a looped length of split yarn and then fuse them with a no-fray glue intended for fabric. (This is because the cut yarn ends were too short to work with – this step essentially lengthened the cut strands of working yarn without having to further unravel the work.)
3. Rework the missing stitches in duplicate stitch using the newly created yarn extensions.
It's perfect now! (Except for the fact that it's still neon green and covered with snakes.)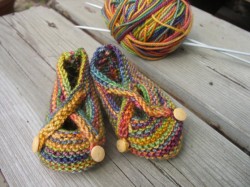 And what do we have here? Only the world's most adorable baby booties, that's what. These booties are for the next baby to come along, because they only fit newborn babies for about five minutes and all the babies on my to-do list are older than five minutes. (Aggie – you should try these – there is no heel-turning involved in these baby booties.)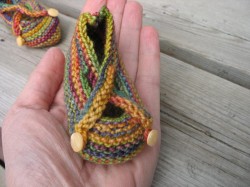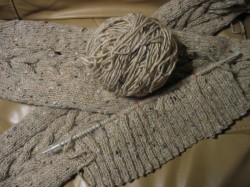 And last but not least, I've started the Central Park Hoodie. I've got both sleeves done and I've started the back. But when I started the back I realized that I'd done the sleeve cables wrong – it's a 10-row repeat and I was doing a six-row repeat. But it's okay, it looks fine, and I can live with knowing it's not technically perfect. It's Good Enough and that's good enough for me.
Tags: