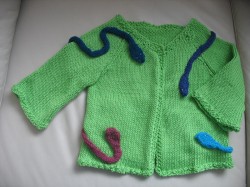 You won't believe how close to done this sweater was before I completely screwed it up. Seriously. I was sewing on the last button. I was about 8 seconds from finishing the sweater.
Earlier today I was telling someone about this baby sweater and I mentioned that I wasn't entirely happy with my colour choices. The original Snake Charmer sweater, which was designed and knit by the Yarn Harlot, is in my favourite shade of blue. But blue wasn't available when I bought the yarn and I thought a fresh vibrant spring green would be perfect.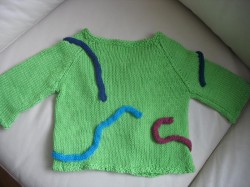 Sometimes colours look better in the store than they do in real life. Once I started knitting it I realized it wasn't so much a fresh spring green as it was an intense and unnatural lime green.
"But that's okay," I said to myself, "The snakes will subdue it."
You know you're in trouble when you say things like that to yourself.
When it came time to knit the snakes, I realized they had to be in fairly intense colours themselves if they were going to stand a chance against that lime green background. And, in case you didn't know, every other colour in the spectrum clashes with lime green.
The snakes may have subdued the sweater a little bit, but I still wasn't entirely happy with it. I was going to post it on here and ask you guys what you thought about the riotous explosion of colours. I wanted your honest opinions about whether it was too tacky. But that was before the disaster struck.
First I needed a model.
Papa Bear tried it on, but the sweater was too small for Papa Bear.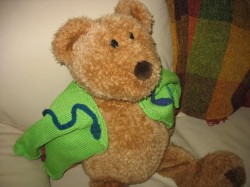 So one of the Boudoir Dolls tried it on, but it was too big for her.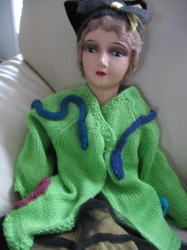 I looked around for another volunteer somewhere between Papa Bear's and Boudoir's size. Aha!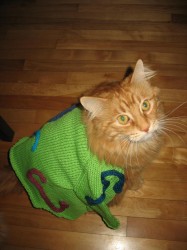 And then I remembered that I hadn't yet sewn on the buttons. Just three little buttons. I sewed the first one on, using strands of the original lime green yarn. Lovely. I sewed the second one on. Perfect. I sewed the third one on. The yarn was a little bunchy looking. I decided, in the interests of perfectionism, to remove the button and sew it on better.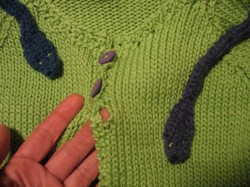 That's when I cut the yarn. Only it wasn't the button yarn. It was the sweater yarn. It left a gaping hole in the sweater which is destined to travel and unravel until the sweater is just a pile of yarn and snakes.
My knitting guru is on vacation. I won't see her for a week and I don't trust myself not to touch the sweater for that long. I know I'll start messing with it and making it worse. Besides, it's for Cynthia's baby and she's due any day now. (The rest of you new parents can breathe a sigh of relief that this one's not for you.)
This is weird, but now that I've ruined it, I've decided I love the sweater and the colours. Does anyone know how I can salvage it?
Tags: