I picked grapefruits right out of the trees! Every morning Merle made each of us a bowl of fresh fruit: grapefruit, oranges, grapes, strawberries, bananas, apples…it was yummy.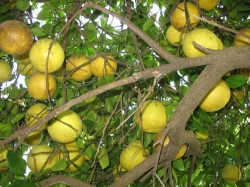 We went to a giant flea market, and I saw Flea Market Elvis. I also saw Fiber Optic Jesus.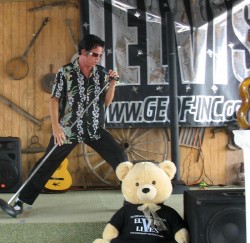 I saw a lot of unusual birds, like this turkey-duck guy. (Edit: I just googled him: he's a Muscovy Duck and his favourite food is mosquitos.)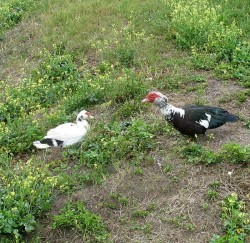 I saw woodpeckers too.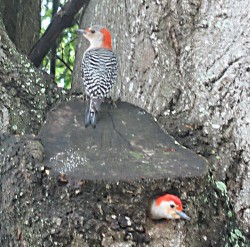 I hung out with Lola, aka Lola Granola, Loly Guacamole Girl, and Pooper.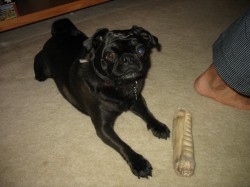 I lay in the sun and read books by the pool. I saw a woman with legs that looked like she stole them from an elephant. They were big and grey and deeply wrinkled. The rest of her looked normal though. I didn't take a picture.
Deb saw a woman wearing support hose over top of her bathing suit. She didn't take a picture.
People-watching by the pool made me realize some things. Mostly everybody was old, and a lot of those old bodies tell cautionary tales about posture, weight and ageing. I should work out more.
I went to the beach. It was spring break so mostly everybody was young. I should work out more.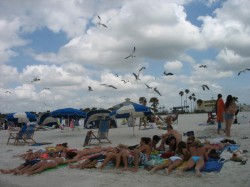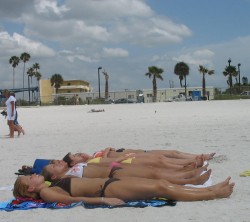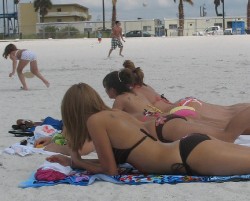 We did some shopping too, but I didn't take pictures of us shopping. I don't normally like shopping because everything costs more than it's worth. But I have to admit shopping is a lot more fun when things are reasonably priced. Among other things, I stocked up on running clothes. I got singlets for $7 that would have cost $40 here.
I meant to take a picture of Deb's shoes. She packed six pairs of shoes for a seven day vacation! ("I cut back," she said, "because last time I brought too many shoes with me.")
Mostly I just relaxed and enjoyed the good company, good food, good weather and the change of scenery, all of which was exactly what I needed.
TAGS: