I stumbled upon the Tulip Festival at Dow's Lake today after brunching with the blogger formerly known as The Urban Pedestrian and currently known as XUP.
The Tulip Festival, it seems, is mostly about photographing your loved ones nestled against a background of vibrant tulips. Just about everybody was either taking a picture or having their picture taken. There were even special little photography stations, marked by camera pictograms.
Here are just a few of the many thousands of people who posed for photographs at the Tulip Festival today. (It feels a bit weird walking up to a stranger and taking their picture when they're posing for a picture for someone else.)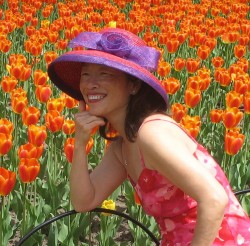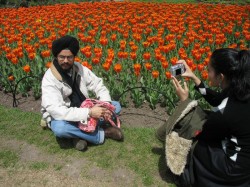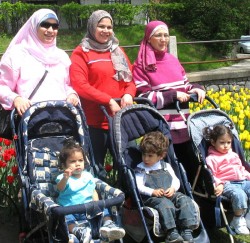 Here's a tulip painter. Lots of us were standing around taking his picture too.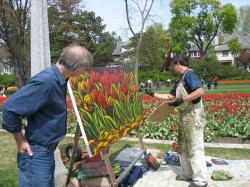 It seems XUP is a bit of a rebel when it comes to pictogram prohibitions. Here she is, stomping tulips with her sensible shoes.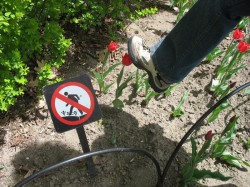 (Don't worry. No actual tulips were harmed in the making of this blog post.)
Anyway. XUP and I had some good food and interesting conversations. We talked about things that used to be considered socially unacceptable but no longer are, things that will be considered socially unacceptable in the future, the revolutionary new dating paradigm, sustainability, excess, fake meat, vegetarianism, single parenting, the health care system, real estate, Value Village, the looming suburban crisis, cats, work, cancer, people who can't smell, people who can't feel pain, the increasing prevalence of autoimmune disorders, shoes, chicken pox, smoking lounges, and much much more.