I ran into John at Mexi's the other evening while waiting for my Dad and Merle, and John plied me with tequila and said his favourite blog posts were the ones about the Swap Boxes. And, he pointed out, there hadn't been a Swap Box post for quite some time.
His timing was perfect because I just happen to have some brand new Swap Box pictures AND some Swap Box news. Good news and bad news. I always like to hear the bad news first so I can get it out of the way and then get cheered up by the good news. Is that how you like it too?
Remember my very favourite Swap Box which was right outside the Invisible Theatre and across the street from Venus Envy? It was the Mayor Larry Swap Box. Pretty much every day I would put something into it – lately it was a daily tarot card.
Well, a little while ago someone yanked the door off it, and it wasn't the same after that. I blogged about it, and Elmaks very kindly went and replaced it with a brand new Swap Box the very next day.
Mayor Larry Swap Box: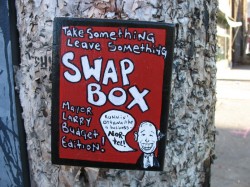 Replacement Swap Box (nicknamed the LCBO Swap Box):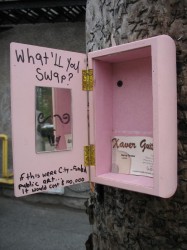 What they look like now: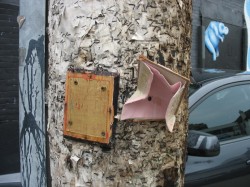 So that's the bad news. I no longer have a Swap Box on my daily route.
The good news is that I ran into some of the CCOC women at the Red Salon Artists show at Patrick Gordon Framing, and they told me about another Swap Box and a street art project I didn't know about. Monday I went down to Gladstone and Percy and checked it out.
Swap Box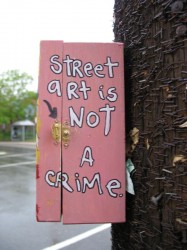 Full of Treats! I took a hair clip and some jazz beads (the kind they throw at the audience at Bluesfest), and left a tarot card and a cat toy.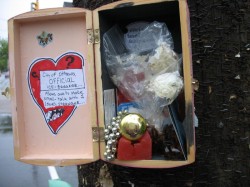 Kitty-corner from the Swap Box was this Plexiglass Flower Case screwed to a telephone pole. It's got real flowers in it! Isn't it fabulous?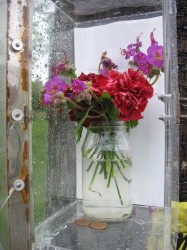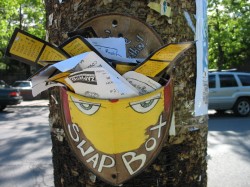 And then, on Tuesday, when I was walking to Mexi's in the Glebe, I stumbled across this very cool Swap Box. Sometimes I wonder if I ought to clean up a Swap Box when it's full of icky stuff that nobody will want, like soggy sticks of gum or empty coffee cups. In this case I didn't: it was full of flyers but they looked kind of interesting. Occasionally I'll remove something if it's so gross it's going to affect the Swap Box's usability. I only do it if I have no doubts whatsoever, because it feels a bit wrong for me to decide what's good enough for the swap box and what isn't.
I've been saving all the things I get from all the swap boxes and one of these days I'm going to make a piece of assemblage art out of them.
I love street art, especially participatory street art like the swap boxes. I think it should be encouraged. It brightens the city and makes it feel friendlier and less alienating. I'd love for Ottawa to host a Street Art Festival.
TAGS: