Today's a special father's day for me. For one thing, my own dad is in my life now. (He was here last father's day too, but I wasn't convinced he was sticking around – now it's looking pretty good. Happy Father's Day, Dad!)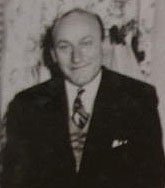 Also, today is the 100th anniversary of my grandfather's birth in a tiny village in East Germany. He emigrated to Canada at 21, all alone.
He lived in Toronto, Halifax and Montreal, and then bought a shack on a chunk of land near Mansonville in the Eastern Townships of Quebec. Eventually he replaced the shack with a house, where he retired for the last 30 years of his life.
He painted watercolours, played backgammon, made donuts, squeezed orange juice, sewed teddy bears, cooked geese, loved nature, drove badly, collected stamps, wrote letters, adored Christmas, planted flowers, invented things, and developed theories.
One of his theories was that everybody was fifty percent good and fifty percent bad.
I used to argue with him about this.
"But Opa," I would say, "How do you know there isn't somebody out there who is fifty-one percent bad?"
We both loved a good debate, and we were both pretty stubborn, and we did sometimes push it to the point of mutual exasperation.
Even though I argued with him about that 50/50 thing, in retrospect I think it became one of my core values. I still believe there is good in everybody, that people can change, that there is always hope. (But I still think I was right about those percentages though.)
He loved me a lot, my grandfather did. He always saw everything I did in the best possible light. Occasionally it annoyed my mother. One time she snapped at me in exasperation "Christ, it's like he thinks the sun rises out of your asshole!"
Every kid needs one person who thinks the sun rises out of their asshole, and Opa was that person for me. I think way deep down he thought I was 51% good.
TAGS: