The bad news is that the Swap Box on Primrose was stolen and the one at Percy and Gladstone was vandalized. If that weren't bad enough, the Plexiglass Flower Box at Percy and Gladstone was gone when I passed by there at 6:30 yesterday morning.
But don't despair! There's good news too:
Andrea from the Fishbowl says she's got a Swap Box ready for painting and installing on the most deserving telephone pole in Westboro.
The Swap Box Keeper of Primrose says she's pretty sad hers was stolen, but she will put up a new one in time, after she heals. (Please tell me when you do that, SBK of Primrose, so I can blog it.)
Elmaks, the original Swap Box Artist, says "Ephemerality is one of the qualities of street art, so I expect that eventually the Boxes will get taken down. How long they last depends on how people in the neighbourhood treat them and the attitude that city crews take."
The Percy and Gladstone Swap Box's message and giraffe remain intact (as always, you can click for a larger version).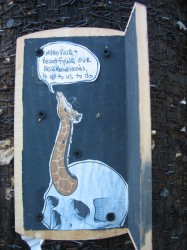 A brand new Art Exchange Box has already sprung up right beside the giraffe!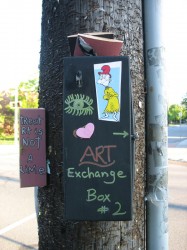 TAGS: