My dear friend and knitting guru is having some pretty serious surgery today, and will be off work, recuperating, for most of the summer.
To keep ourselves occupied over the past couple of weeks, my coworkers and I have been preparing gifts for her recovery. All eight of us have been collecting things that will entertain and amuse her. It hasn't been hard because she's really a big kid at heart, and she's got many eclectic interests and hobbies.
Whoever said accountants are boring has obviously never met our accountant. She's into everything: football, medieval history, romance novels, Shakespeare, science fiction, old movies, comic books, needlecrafts, chocolate, junk food, green tea, mythology, motorcycles, theatre, opera and Wallace and Gromit. She's a wealth of information about all kinds of things, and she's a lot of fun to shop for. (I did most of my shopping at the Great Glebe Garage Sale.)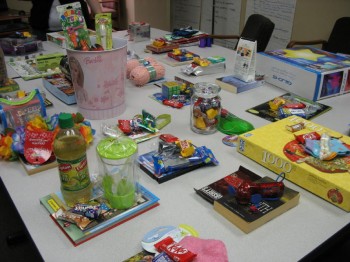 On Tuesday we took all the gifts that we had collected and laid them out on the board room table. Then we grouped them into individual days, starting with a summoning bell and a movie for the first day and moving gradually towards more active pursuits as she recovers. We finished off the series with a bottle of wine and outdoor doggie toys for the 32nd day. We figure by then she'll be well enough to get tipsy and go to the dog park.
Then we wrapped every tiny little thing, tied each day's gifts together with ribbon and labelled each bundle Day 1, Day 2, etc. Our board room looked like Christmas. (Or, as Angela said, an 8-year-old's birthday party.)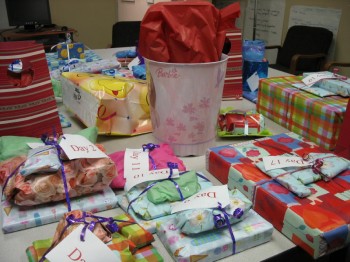 ---