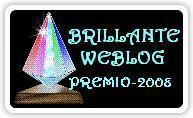 Congratulations to XUP for winning the Brillante Award and thank you for sending it my way.
It's kind of like a meme actually. I get to send it to seven other bloggers, and they each get to send it to seven other bloggers, and if nobody drops the ball eventually we'll all have a Brillante.
I'd like to send it back to XUP, since she's prolific and interesting and witty in that wry, dry way of hers. But I can see how that might set an unsustainable precedent, so I will resist that urge.
Instead, I'm going to try to cast this one a little further afield than among the Usual Suspects (you know who you are).
Just Making It Up: I love her writing style and sense of humour, and if you read back through her archives, you'll find that the past year dealt her a shocking and life-altering event.
The Home Improvement Ninja is an irreverent and politically incorrect derivatives lawyer in Washington who blogs about things like weighing his poop.
Wandering Coyote has a rich assortment of interesting interests, and is good enough to share them.
Don Mills Diva is not just a mommyblogger.
Toni over at Write Knit Read Purr lives in Florida and blogs about why she's not knitting or blogging.
Mauricio at El Collage lives in Brazil and offers up a virtual parade of intriguing art.