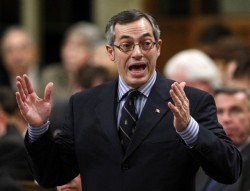 Federal Health Minister Tony Clement addressed a meeting of the Canadian Medical Association on Monday where he deliberately and publicly denounced the ethics of doctors who support Insite*.
"The supervised injection site undercuts the ethics of medical practice and sets a debilitating example for all physicians and nurses, both present and future in Canada," Mr. Clement declared.
Mr. Clement's accusation stirred up quite a reaction in Canada's medical community.
The Chair of the CMA's Ethics Committee, Dr. Bonnie Cham, said "I found the use of medical ethics to justify a political decision, which will affect social policy to be troubling at best and misleading at worst."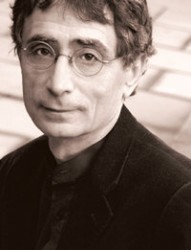 Dr. Gabor Maté, a physician who works directly with Vancouver's Downtown Eastside drug addicts, reacted with some ferocity to Mr. Clement's attack.
"The repugnant aspect is his attack on the morality and ethics of human beings who are trying to work with a very difficult population," said Dr. Maté in an interview, "I mean where does he come off? Where does he appoint himself as a moral judge of professionals who he doesn't understand and knows nothing about?"
In a subsequent letter to the Globe and Mail, Dr. Maté wrote: "The minister ought to resign if he cannot tolerate disagreement without personally attacking health professionals who, under challenging circumstances and with no help from his government, are attempting to relieve suffering of which he seems to have no understanding,"
Ann Livingston, spokeswoman for the Vancouver Area Network of Drug Users, says "I almost feel a certain amount of pity for the guy (Clement) because I think he doesn't seem to grasp just how sophisticated the level of discussion (has been) that's gone on around ethics."
This is the thing. This government has an ugly habit of imposing its ideology on the rest of us, even when that ideology is unsupported by the evidence of professionals and researchers who have dedicated their careers to understanding and studying the issue.
Canada's Conservative government has set its sights on Insite. In addition to publicly attacking both the program and the professionals who work there, the government is appealing the BC Supreme Court's ruling which allows Insite to continue operating. At the same time, Conservative MPs recently swamped Vancouver with offensive we're-tough-on-drugs-unlike-those-pansy-assed-liberals propaganda.
If anybody's on shaky ethical ground here, it's the politicians, not the nurses and doctors.
To learn about how you can help protect Insite from the federal government, check out their Facebook group.
---
*Insite is a safe, clean facility where addicts inject their own drugs in the presence of nurses who will save their lives in the event of overdose. A side benefit is that these addicts have daily contact with non-judgmental health care professionals, which means they will be more likely to seek treatment for their addiction as well as for other health issues such as infections, wounds, diseases and pregnancy.
TAGS: