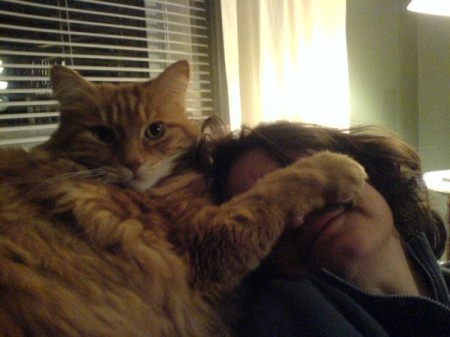 by Duncan Donut the Glorious Dogcat.
I'm giving Zoom a hand since she's in a bit of a blogging slump lately.
This is the first instalment of my new column: Dear Duncan.
---
Dear Duncan,
I fell asleep drinking a beer out of my bowl one day and when I woke up I was the First Dog of the best City in the world.
But it's not perfect. Case in point: The pathetic scrawny alley cats in my neighbourhood keep asking me for money. They say it's for food but I'm certain they're spending it all on catnip. Please tell all your readers to stop giving money to these alley cats. Instead, just put your money in a parking meter and I'll pick it up later and give it to good-hearted and wonderful people who serve the plight of cats and believe in social equity. Then we can all feel good about my economic efficiency.
Yours sincerely,
Remi O'Brien
Dear Remi,
Woof.
Congratulations on the new thesaurus.
Seriously though, you do demonstrate a moderately sophisticated level of thinking for a dog. Have you thought of starting your own blog?
Sincerely,
Duncan
---
Dear Duncan,
Are you still peeing on GC?
Robin
Dear Robin,
That's kind of a personal question, isn't it? Let's just say that GC and me, we're talking, and we're coming to some kind of understanding. GC put his cards on the table and here's what he said: "Duncan, please don't make her choose cause I think she'll choose you." And then we got down to some serious negotiations about how we could turn this into a win-win situation. I don't want to divulge the details of this deal since we haven't finished crossing our eyes and dotting our tees, but let's just say GC and me have tentatively agreed there's no P in Team, but there is a yet-to-be-determined quantity of tuna and catnip in Team.
---
If you have questions for Duncan, please send them to duncan.docgat@gmail.com.
TAGS: