I love reading books written by people I know, or by people who know people I know, or books set in places I know. I love catching glimpses of the familiar in the imaginary terrain, and I'm inspired by the sense of plausibility it give me about writing.
I was recently given a book by someone in the Ottawa blogging community. It was written by someone close to her. Even though I have never met the author of the book, I still feel that sense of connection, as in "This book was written by someone I almost know!"
Bittersweet: Confessions of a Twice-Married Man, by Philip Lee, is a true account of the author's journey through the aftermath of his first marriage and beyond. It's described as witty, warm, honest and hopeful – my kind of book. Here is the first line from the inside front flap: "Sometimes the life we've constructed needs to fall apart before we can begin to make something better."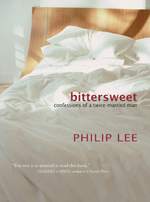 I love the image on the front cover – morning light on slightly rumpled white bedding; a pillow recently vacated by a head. It makes me want to go to bed and cozy up with a good book.
It's sitting on my coffee table right now, this book. I've read the back cover and the inside flaps and the quotes and the acknowledgments. Everything up to Page One and everything after The End. I've been putting off digging in till I have some time to savor it.
And now it's time.
This weekend only, Bittersweet is available free of charge at Goose Lane Editions' website, so we can all curl up on our couches and beds and read it together.