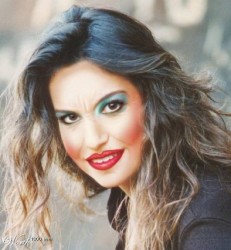 I was wandering through Shopper's Drug Mart a couple of weeks ago when a lovely young woman persuaded me to participate in Beauty Makeover Day. All I had to do was let them make me up with Smashbox products.
"Okay," I said, "but can we go for a natural look, because I don't really wear makeup."
"Of course!" she lied enthusiastically.
So, next thing you know I'm perched on a stool and Brooke is extracting thousands of products from her bag of tricks.
"Your face is a canvas," said Brooke, "and the first thing we want to do is prime the canvas so it can flawlessly accept the full range of glorious colours."
She then coated my face with invisible $50 silicone gel stuff. If felt kind of interesting, like dry liquid.
"Then we put a little concealer on trouble spots, to soften any imperfections."
Well okay, but my imperfections must have been fairly extensive because she put concealer everywhere.
She followed this with layers and layers of other stuff. I lost track. There was a $72 powder with 18 different minerals and revolutionary new Smart Technology. There was bronzing powder and blush and a white stick to open up my eyes and eyeliner and eye shadow and finishing powder and lip stick and lip gloss.
The whole time she was working on me, she chatted about the products, using words like replenishing and rejuvenating and nourishing and nurturing. I sat there thinking about Naomi Wolf's book, The Beauty Myth, about how women are drawn to these adjectives and promises from makeup because that's exactly what we need and are not getting from life. (Being a feminist is a full-time job; even when you're doing girlie shit, you're still a feminist. Maybe especially when you're doing girlie shit.)
By the end of all this, I looked not so good. Not awful, not tarty, just overly made up. Like pop me in a casket and invite my friends to visit between seven and nine.
Brooke and the other beauticians gathered around and oohed and ahhhed and lied about how much better I looked and how natural I looked.
And of course the inevitable sales pitch followed. This kit, that brush, this extra little essential, etc. "You can't afford not to buy them," said Brooke.
On the other hand, it seemed to me like a lot of time and money to spend each morning just to look a little bit better than the real natural, which is free and easy.
And honestly? I'm not even sure I looked any better. Nobody said "Wow, you look fantastic!" after I left Shopper's Drug Mart. My friends at work were lukewarm – they said I looked too made up. I was even told the makeup made me look older.
The thing is, I wouldn't mind a fast, easy makeup routine if it made me look better. But on both occasions I've gone for one of these free makeup demos, I've been subjected to a lengthy, complicated and expensive set of procedures that doesn't even look that good in the end.
Maybe I'll just stick with my multipurpose tinted sunscreen/moisturizer.