Last night I celebrated Rosh Hashanah for the first time ever. There were candles and wine and some prayers, but mostly there was food. Lots of food. A veritable feast!
For starters: apple wedges dipped in honey. Much of the food is sweet for Rosh Hashanah because it's the Jewish New Year and sweet food symbolizes a sweet year.
Then the wine was poured and the candles were lit and the prayers were said, and we had some challa bread sprinkled with salt and dipped in honey. Then we had matzo ball soup. After that, the main course was brought from the kitchen to the table.
I kept photographing the spread of food prematurely because I kept thinking GC was finished bringing it in. But he wasn't. There was a steady flow of food from the kitchen to the table. There was a LOT of food.
Look at it all! There were only two of us eating this feast.
It was all yummy except for the gefilte fish in jellied broth; I have issues around fish and jellied anything. (Except Jello. I love red Jello.)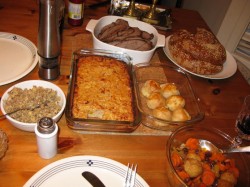 I don't remember what everything was called but I'll do my best. Starting on the left and going clockwise: bulgur and bowties (wonderful), baked apricot pudding (sweet and tasty – it could pass as a dessert but it's not a dessert), beef brisket, challa bread, potato knishes, I-forget-what-it's-called-but-it's-got-pineapple-carrots-and-raisins-and-it's delicious.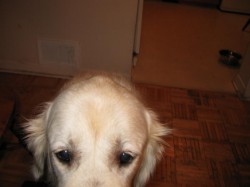 GC's dog watched politely from the edge of my chair while drooling profusely. He was optimistic that I might be the weak link in the food chain. (He was right.)
After dinner I passed out on the couch for awhile and when I woke up it was time for more food – Honey and Spice and Everything Nice Cake, served with coffee.
Today was a waddling sort of day.
Shana Tova!