Remember Ginette, the panhandler who became self-conscious about smiling because all her teeth had been pulled?
Well, shortly after I blogged about her, Melinda, a Swiss blogger (she writes Misadventures in Knitting), very kindly knit Ginette a beautiful hat and sent it to me to give to her.
I had a hard time tracking Ginette down. She seemed to have abandoned her usual spot at Bank and Slater. For weeks I walked around with the hat in my knapsack, hoping to run into her. Winter turned to Spring. When I finally saw her on Elgin Street in June, hat weather had turned to hot weather, and I didn't have the hat with me.
We sat and talked for awhile, and she told me she usually panhandled down in the Glebe now, but she'd gotten a few tickets for doing so. (If you knew Ginette, you'd know she just stands in her spot and smiles and hopes for the best. She doesn't speak to anybody unless they speak first. She's friendly but timid. I don't understand why anybody would ticket her.)
She told me there was a church that paid her fines for her. She also told me that she and her husband had just celebrated their twenty-fifth wedding anniversary. She's still in love with her husband, who has severe disabilities. They have three children, two of whom are doing well. Her youngest daughter was about to graduate from high school in Edmonton, and Ginette's eyes shone as she told me about her. The daughter's social worker was trying to arrange for some funds for Ginette and her husband to attend the graduation. Ginette said that if the worker could get them out there, they probably wouldn't come back to Ottawa.
I told Ginette that my friend Melinda in Switzerland had sent me a present for her, and I asked her to meet me the following day so I could give it to her. She was surprised and pleased and puzzled, and she said she would try to meet me at the same corner the next day at lunchtime.
She didn't show up. This was a few months ago and I haven't seen her since. I sincerely hope she made it to Edmonton.
Meanwhile, I've been wondering what to do with the beautiful handknit hat from Melinda.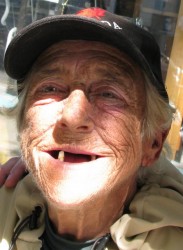 I'll ask Melinda, of course, but I think I'd like to give it to Nicky-Diane. (When asked her name, she sometimes says it's Nicky, and sometimes Diane, and probably other names as well. So I just call her Nicky-Diane.) Nicky-Diane is almost always at the corner of Bank and Albert, outside the Bridgehead. She's tiny – I'm short, and I tower over her. She's Aboriginal, has a terrible cough, gets cold easily, and is always warm and friendly to anyone who stops to talk to her.
The other day she told me a man had just given her five twenty-dollar-bills a half-hour earlier. "I'm still shaking," she said, "Five twenties! I've heard of it happening to other people, but it's never happened to me before! Five twenties!That's a hundred dollars, isn't it?"
Maybe Nicky-Diane's luck has turned, and Melinda's hat could be part of that.
Other options for Melinda's hat: the Women's Shelter next to my office is always looking for warm winter clothing for the women. And there's a young woman who sits on the sidewalk near the grocery store at Bank and Somerset, selling her drawings for $5. She might be needing a warm hat pretty soon.
Any other ideas?