[UPDATE: I fixed the charts.]
I missed my blogiversary! Knitnut.net turned three years old on October 11.
On previous blogiversaries, I've posted stats about how the blog's been doing compared to other years. I'll do the same this year.
As of October 11th, there were a total of 736 posts and 5,386 comments on this blog.
# of POSTS
Year 1: 205
Year 2: 235
Year 3: 296
TOTAL: 736
# of COMMENTS
Year 1: 491
Year 2: 1136
Year 3: 3693
Total: 5,368
As you can see, I increased my number of posts by about 25% and you more than TRIPLED your number of comments! Well done!
The following google searches continue to bring a lot of people to this blog: "ears squeak when I blow my nose," and "22-inch penis." This year I'm pleased to add "suppository stories" and "women's change rooms" to the list of frequent searches.
Here's a graph of the traffic to knitnut.net from October 4th to October 11th, 2008 (click to enlarge):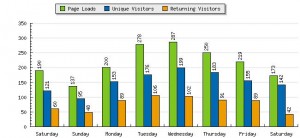 Over at Technorati, Knitnut.net ranks 262,140th among blogs, with an authority rating of 40. From what I can gather, these numbers are essentially meaningless, but I still like to track them because I have a thing for metrics.
According to Feedburner, Knitnut.net has 222 subscribers, up from 58 a year ago.
All these numbers are way up from last year, but they don't tell the whole story. The fact is, they've been falling all year. (Click to enlarge)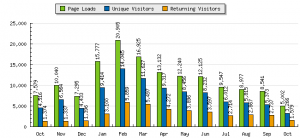 As you can see, there was a phenomenal spike in traffic at the beginning of 2008. This spike was the result of two things:
1)This post won second prize in the Best Post category of the Canadian Blog Awards; and
2) The Yarn Harlot mentioned knitnut.net on her blog. [See here for phenomenal spike graph and analysis.]
At the risk of seeming a little obsessive compulsive about the whole thing, let's take a look at my all-time quarterly stats: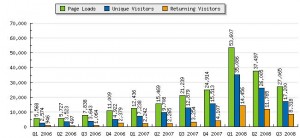 It's kind of like the stock market – it's satisfying when it's climbing, it's thrilling when it spikes, but it's a little depressing when you're riding it all the way back down for months.
At any rate, I know it's really not about the numbers. I had no idea what to expect when I started blogging, and there have been many surprises along the way. I love that my blog has brought all of you into my life. Some of my best friendships have come about as a result of blogging. Even though I've never met most of the people who read my blog, I love knowing that you're out there, and that we share this connection. You add to the quality of my life in a very real way. Thank you for being here with me.
TAGS: