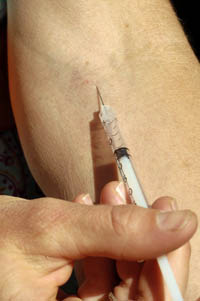 A couple of weeks ago I attended a panel discussion about "harm reduction in a socio-political context," sponsored by the Canadian Centre on Substance Abuse.
During the audience Q&As, a young man named Max Rowsell took the microphone. He told us that he has been using opiates intravenously for three years, and he just found out he has Hepatitis C. He works on the Harm Reduction Youth Advisory Committee of the Youth Services Bureau.
Max was interesting and articulate, and I wanted to hear the rest of his story, so we got together for dinner on Friday evening. I didn't take any notes, so I hope my memory doesn't let me down too much here. (For the record, Max gave me permission to identify him on my blog and said everything we discussed was bloggable.)
The first thing I noticed was that Max wasn't making a lot of eye contact and his eyes were rolled back in his head a bit, so I figured he was probably high (he confirmed this later). Regardless, he was absolutely coherent: his thoughts and words were crystal clear. And he was intriguingly open and honest.
He doesn't seem to blame anybody for his addiction, and he's empathetic about his parents' circumstances and the choices they made along the way. He describes his mother as "the most wonderful and nurturing woman you could imagine." She moved to Norway when he was in his teens, and Max moved to Ottawa to live with his father.
Suddenly his whole world had changed – he had lost his family, his friends, his city, his school – and he was forced to adjust to an all-new family, friends, city and school.
Max says if someone had said to him, "You're going to go to school one day and learn how to hit up in the bathroom," he would have had trouble believing it. He would have thought "How could that happen?"
But that's what happened. He was seventeen years old. Of the five friends who all started using together in that high school bathroom three years ago, four are still addicted.
I asked him how long it took him to become addicted. He says he's not sure when he slipped over the line. But the difference is that an addict gets dopesick when he goes too long without drugs. He says it's really hard to endure that kind of sickness when you know you can alleviate all your symptoms in 30 seconds.
"If you could go back to that day in high school," I asked him, "Would you change it?"
"That's a good question," Max said, "I don't think I would. I've had some bad experiences as a result of the drugs, but it's also brought some really good people and experiences and opportunities into my life."
I think we all carry around in our heads a stereotype of what a drug addict is. I know I do. Even though I've been an addict myself, and my own lived experience tells me that my stereotype is merely a caricature of an addict, I still can't quite shake it.
Drug addicts are not all the same. Every addict is also a person with their own unique combination of qualities, quirks and flaws. There's as much variation between addicts as there is between non-addicts.
But the drugs themselves do create commonalities among and differences between groups of addicts.
Max points out that the nature of crack, for example, makes crack addiction a full-time job. Within minutes of smoking it, you start craving it again. All your waking hours are devoted to smoking crack, looking for crack, or getting money to buy more crack. He says it's important that crack addicts have a voice in harm reduction since they are the experts on themselves, but it's harder to engage or mobilize them because of the all-consuming nature of their addiction.
Opiate addicts, on the other hand, aren't usually so consumed. Opiates include heroin and pharmaceutical opiates/painkillers like codeine, demerol, dilaudid, meperidine, methadone, morphine, percocet and percodan. In Max's case, he uses two or three times a day, and it takes about half an hour to become functional again after each use.
In practical terms, this difference between crack addicts and opiate addicts is huge. Opiate addicts tend to have far more time and capacity for other pursuits like school, work, hobbies, and community activities.
Max seems to be living a full, rich life – which includes school, work, activism, community, a relationship, friendships, conferences and public speaking engagements – while managing an active addiction. He credits harm reduction for making it possible for him to do all the other things.
He doesn't see harm reduction as simply about disease prevention or needle exchange and crack kit programs. Harm reduction, in its broadest sense, is about employment and education and health and well-being – it's about helping people be the best they can be.
A couple of weeks ago, at the Homelessness Forum, Rob Boyd said that pitting harm reduction against treatment – as some politicians like to do – makes no sense because harm reduction is at the front lines of treatment. They're on the same side.
I asked Max about treatment. He said he thought he could quit if he chose to, and he spoke very knowledgeably about the various treatment options for opiate addicts. He's done his research; he understands the biochemistry of opiates and the various treatment options.
Max says many drugs, including opiates, are not in and of themselves particularly harmful. The harm comes from the things one might do and the risks one might take in order to get and use the drugs, such as sex trade work, crime, sharing needles, etc. It's the criminalization of drug use that makes it unnecessarily risky and creates much of the harm. The Conservative government, by focusing its drug strategy on prisons and punishment, is actually making things worse.
Since I started writing about addiction occasionally on my blog, I've had a few parents email me and ask how they can help their addicted child. I've always felt bad that I can never answer that question to their satisfaction or my own. I asked Max what he would tell them.
I'm paraphrasing here:
"Tell them that you love them and that you'll support them no matter what, whether they're actively using or not. Talk to them about harm reduction. Tell them you don't want them to share equipment. Tell them you don't want them to do sex trade work to get the money."
I think if Conservative politicians were to meet Max they would change their minds about harm reduction. They would see a smart and likable young man with many qualities and strengths, who does give a damn about his own well-being and about his community, and whose future is clearly and undeniably worth protecting. How could they not see that?
We left the restaurant and walked for awhile. There was a beam of light sweeping the sky, and Max explained to me how it works and what its purpose is. He walked me to my bus stop, waited with me until the #14 arrived, then leaned way down (he's 6'7″) and gave me a big hug goodbye.
---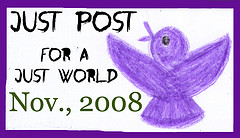 Update: This post won a Just Post award!
---
TAGS: