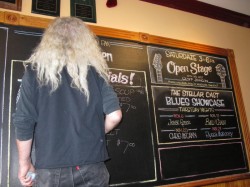 Last weekend I found myself sitting at the window table at Irene's Pub with two local blogger friends, doing what bloggers do best: eating eggs, drinking beer, talking, and looking for things to blog about.
Andy Brown, the Chalkboard Artist, was hard at work on the chalkboard right beside us. Andy takes care of Irene's chalkboard and five of the Royal Oak chalkboards, and some other chalkboards around town too. While he worked his magic, we inspected his tool box and leafed through his portfolio and asked him questions.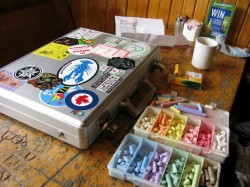 XUP asked him if you can make an actual living as a chalkboard artist.
"I'd say yes," replied Andy with a smile, "but my wife would say no."
Apparently chalkboard artistry pays in some combination of Guinness and money. Andy likes the Guinness more than the money. He says he's a chalkboard artist because nobody will pay him to sit in his basement drinking Guinness and painting pictures.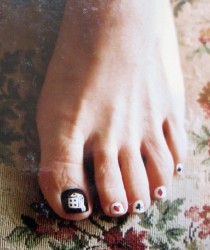 These are his wife's toenails. Andy paints toenails too, in case you need a toenail artist. His phone number is 613-283-3849 (serious chalkboard and toenail inquiries only please).
That's his dog, Stella, and the inside of his art kit, by the way.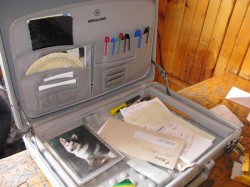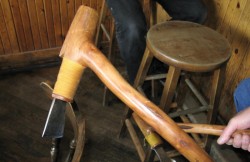 While we were talking to Andy, another man came in, sat at the bar nearby, and started pullling big sharp instruments out of a case. Us bloggers are a curious lot. Some might even say nosy.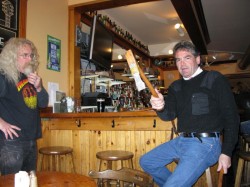 Before long, we'd found out his name (Dewey), what kind of tools he made (totem pole carving tools), the kind of wood they were carved from (fruitwood, mostly apple), his aboriginal heritage (Cree – the Cree never really were totem pole carvers, but he'd studied with traditional carvers on the west coast and studied sculpture at the Emily Carr School), the location of his totem poles (mostly Alexandria Island in Ottawa, but one was just auctioned off at the Toronto Film Festival), his day job (senior policy advisor on Aboriginal housing issues), and his opinion of the Harper government (redacted).
After a bit, XUP nudged me and said "Zoom, get a picture of his buttocks for me."
So I did. These are them, perched on a bar stool just the way XUP likes them. (You might want to visit XUP's blog today, if you haven't already: her entire post is about buttocks.)
Robin said he wanted the record to show that he did not participate in the buttocks discussion. So noted.
TAGS: