You Are Scrabble


You are incredibly clever and witty. You can talk your way out of (and into) situations easily.
You are an excellent decision maker. You are good at weighing the options in front of you.
You're the type of person who can make something out of nothing. You are very resourceful.
You know a lot of things. Most importantly, you know when people are wrong – even when they won't admit it.

I saw this board game quiz thingy on Wandering Coyote's blog and I couldn't resist.
I was pleased it said that if I was a board game, I'd be Scrabble. I don't know if I ever told you this, but GC and I met playing Scrabble on Facebook, back when Scrabble was called Scrabulous. (It hasn't been the same since they took it away from the Indian pirates, fancied it up and changed its name to Scrabble.)
I LOVE board games. I can waste hours and hours playing them. As a kid, once I'd burnt everybody else out on Monopoly or backgammon or Scrabble, I'd play by myself, taking turns for my imaginary friends.
It probably could have been predicted, even back then, that addiction might become a problem for me.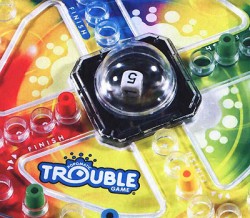 Remember Trouble? The game with the popomatic bubble? The only skill required to play Trouble was the ability to count to six. Here's a confession: as a young woman, I would play Trouble with my five year old son, and he would get bored with it before I did. After he had wandered off in search of more intellectually stimulating activities, I'd play Trouble by myself for awhile.
I've gotten hooked on a lot of computer games over the years too – everything from Bouncing Babies, Minesweeper, Snood and Civilization to the MMPORPG* Dark Age of Camelot.
My current gaming addictions are Word Twist and Scramble, both on Facebook, but not to be confused with Scrabble or Scrabulous. I play with various friends including bloggers XUP and Aggie. Scramble's my favourite, but it's hard to find people who want to play with me. I used to play it a lot with Ember Swift but she quit cold turkey a couple of months ago. She told me I was her favourite opponent, but she needed more time for other pursuits. She let me down gently.
How about you? Do you like games? What's your favourite? How often do you play it?
---

*MMPORPG: Massively multi-player online role-playing game.
TAGS: