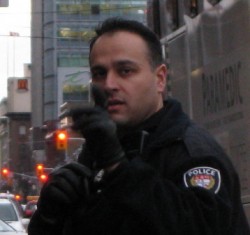 Over the past couple of days, thousands of people have visited this blog to read about the Bank Street Bully, and many of you subsequently blogged about it on your own blogs. It has generated a lot of discussion, both on this blog and others.
Apparently a number of you also contacted the Ottawa Police to demand an investigation.
In case you missed Comment #91 in response to the original post, here it is again:
I work as the officer in charge of the Professional Standards Section at the Ottawa Police Service and am currently reviewing this matter at the request of Chief Vern White.

The Service recognizes that there are specific concerns raised here about the conduct of Ottawa Police officers. For everyone's information, the police service takes any allegation of this type very seriously and encourages anyone with such a concern to visit our site at:


http://www.ottawapolice.ca/en/serving_ottawa/compliment_complaint/complaint.cfm

or to contact our Professional Standards Section at (613) 236-1222 ext 5830 to speak with an investigator, or to obtain more information on the process.

In order to comply with due process in matters such as this one, we do not comment on specific cases until any investigation is concluded and a decision is reached about the possible laying of any charges under the Ontario Police Services Act.

If you have any further questions or comments, please direct them to info@ottawapolice.ca . Your concern will then be forwarded to me or to the appropriate person responsible within the police service.

Should you have been a witness to this incident, please contact the Professional Standards Section as your assistance would be greatly appreciated.

Denis Cléroux

Professional Standards Section
Staff Sergeant
Central Division centrale
Ottawa Police
And here's a link to this morning's Ottawa Citizen article, "Police Wanted Photos Erased, Blogger Claims." (Hat tip to my friend Gilles who was up reading newspapers at the crack of dawn.)
Many thanks to all of you who helped keep this on the front burner over the last few days. I very much hope that the 'review' ordered by Police Chief Vern White will be genuine and fair, and not just a token attempt to appease public outrage. Time will tell.
TAGS: