I'm happy – and surprised! – to have won three smiling beavers in the 2008 Canadian Blog Awards last night.
Check it out: Best Personal Blog! Third Best Activities Blog! Best Local Blog!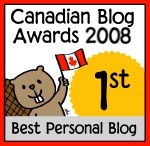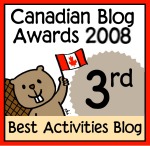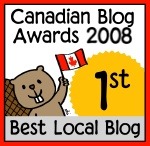 Many, many thanks to the people who nominated me* and to every single one of you who took the time to vote. Big hugs to those of you who have been reading for awhile, and a warm welcome to those who just stumbled in. Special thanks to the Yarn Harlot. Hats off to the CBA organizers.
The results came in quite late last evening, so GC suggested we go out for donuts to celebrate.
A little known fact about me is that I have an official position on donuts. As far as I'm concerned, the only donut worth its calories is the Tim Horton's Boston Creme donut.
As it turns out, finding a Tim Horton's Boston Creme donut in Ottawa at 10:00 at night is not as easy as it sounds. We went to one drive-thru window after another, and were repeatedly informed that they were sold out of Boston Cremes.
But did we give up? No. GC insisted that winning a first prize beaver was so worthy of a Boston Creme donut that we would travel to the four corners of the world if necessary to procure one.
One Tim Horton's didn't have a drive-thru, so I waited in the car while GC went in. He returned with a bag. In it were two donuts that the clerk told him were identical to Boston Cremes but with maple instead of chocolate.
"No good," I said.
"Okay," he said.
We kept going. At the fifth Tim Horton's I said I'd settle for a chocolate dip donut instead, so we got one of those.
But GC wasn't ready to give up yet.
And it's a good thing, because we hit the jackpot at the sixth Timmy's!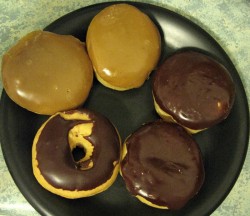 We took all our bags of donuts, went back to my place, made some coffee, and curled up on the couch to drink coffee and eat donuts before bed.
Just so you know, we only ate three of them. Honest.
*(I'm pretty sure Roro at Creampuff Revolution was one of the nominators, but I don't know who the others were – if you nominated me, please let me know!)
TAGS: