Christmas Eve
On Christmas Eve GC and I worked our weekly shift in the soup kitchen at the Shepherds of Good Hope, serving up tourtiere pie and cauliflower soup and pastries.
Things were slow in the soup line, and there was a Christmas Eve Mass out in the parking lot at 8:00, so we stepped outside to watch.
I've been to Mass a few times before, but it was always a little too heavy on the pomp and ceremony for me. This one seemed more inclusive and down to earth. The priest wore a baseball cap. There was a bonfire in a metal barrel and we sang Christmas carols, and there was a part where you shake hands with all the people around you and say "Peace be with you." I can't remember if that's a standard part of Mass, but I liked it.
Only a hundred or so people showed up for dinner. Anybody with anywhere else to go for Christmas was already gone. After they ate, a couple dozen people lingered around the TV to watch The Lion, the Witch and the Wardrobe. I was glad they were safe and warm for a couple of hours at least. Shepherds is wonderful, but I wish everybody had somewhere better to go for Christmas.
Christmas Day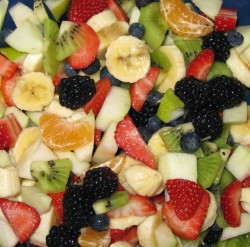 On Christmas Day, GC and I made Waffles with a Mountain of Fruit for brunch.
Mudmama and Papa Pan and Sprout dropped by for an unexpected visit. Sprout's a toddler now. He's a perpetual motion machine, but in a mellow, easy-going kind of way. His parents take turns sitting down and socializing while the other one shadows him, taking things away from him, removing things from his mouth, and stopping him from smacking the brand new Mac with a wooden spoon.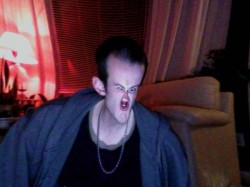 After they left, my son, James, came over and we made goofy movies with the web cam. This is James. (He's still surprisingly single, by the way. For those who think all the nice, good-looking, straight guys are taken, click to enlarge.)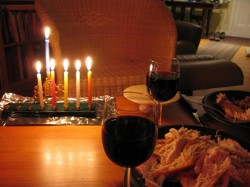 We had a traditional Christmas feast which included turkey, stuffing, cranberry sauce, gravy, a medley of roasted yams, beets, red onions, carrots and parsnips, very special mashed potatoes, and a gingerbread cake with whipped cream. As usual, we ate around the coffee table because I still don't have chairs.
GC lit the Hanukkah candles. (They were much smaller and prettier than I imagined. For some reason I always think of religious ceremonial items as big and ornate.)
This was GC's first time celebrating Christmas! I think he liked it. He got all ho-ho-ho about Christmas shopping and singing carols and stuffing stockings and decorating the tree and wrapping presents and everything.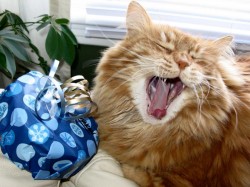 This was also Duncan's first Christmas and I think he liked it too. He seemed genuinely interested in his gifts, and was especially enchanted by a set of catnip mice from GC.
From now on, I will no longer refer to Duncan as The Cat Who Never Plays. He tossed those mousies around and skidded across the floors after them with great enthusiasm and remarkably little grace.
I got lots of wonderful gifts for Christmas too, including an aromatherapy nebulizer I've been wanting, The Shock Doctrine, pyjamas with sheep on them, a bath sheet, Smarties, a wooden crow, Catopoly, a bottle of Bailey's, a book about female street artists, and some wind-up grandpas who beat each other with their canes!
All in all, it was a most excellent Christmas and I'm happy I still have another week of holidays left before I have to venture back out into the world. I'm hoping the bus strike will be over by then….but then again, I'm an incurable optimist.
That's it for today. Tomorrow I'll tell you all about the woody I saw yesterday.
TAGS: