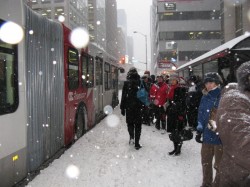 The bus strike and the blizzard seem almost divinely synchronized for maximum impact on the city. I predict chaos and paralysis if this strike is not averted. It was bad enough trying to get home tonight, with just the blizzard.
Mayor Larry, on his blog, keeps saying things like "It would be sad if there were a transit strike."
I think the mayor is in need of a Dr. Seuss Primer on Emotional Intelligence, because 'sad' is a bizarrely inappropriate word to use in this situation.
I'm not sad Larry. I'm hugely inconvenienced and I'm pissed off. And there are plenty of people whose lives will be more disrupted than mine by this strike, and I bet they're mad-not-sad too. Students are trying to get to exams. Seniors and people with disabilities are trying to remain independent. Some people do their grocery shopping by bus. There are people who are going to lose their jobs because they can't get to work.
I think the mayor has made a gross miscalculation if he truly believes all these people will react with sadness to a bus strike.
I think to Mayor Larry there are only three kinds of people: those whose ass he kisses, those who kiss his ass, and those who refuse to kiss his ass even though he thinks they ought to. It's this last group that makes his blood boil, and it includes unionized workers.
I'm a unionized worker. I've been on the collective bargaining team four times in the last ten years. I know how difficult it can be, even when – as in the case of my workplace – both sides come to the table with an attitude of respect and a genuine desire to make fair and reasonable changes to our collective agreement.
I can't even imagine how difficult it would be to go into bargaining against an unjustifiably arrogant boss who lacks experience and wisdom, who is openly contemptuous of the union, who swaggers and brags about how tough he is, and who combines a love of power with a lack of leadership.
I'm not saying the other side has done everything perfectly either. The local's president, Andre Cornellier, surely alienated much of the public with this unseemly attack. I would think that public opinion would be a powerful thing to have on your side in a strike that affects the public so profoundly. Cornellier apparently sees the public in an adversarial light, which could potentially become a self-fulfilling prophecy.
In spite of Cornellier's outburst, my support remains with the bus drivers. I have no problem with workers trying to keep good jobs good.
TAGS: