I think this concept for an art show is brilliant. Everybody gets to be an artist. Even you and me!
---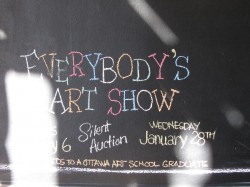 Where: Irene's Pub, 885 Bank Street in the Glebe
When: January 6th, 2009 – January 28th, 2009 (culminating in a Silent Auction on Wednesday January 28th)
Who: Everybody
Why: Fundraiser. Proceeds will go to a 2009 graduate from the Ottawa School of Art
Donate a piece of art from your collection (done by yourself or another), or create one for the event. Irene's will accept an array of media inlcuding: glass, textile, metal, wood, photography, oil, acrylic, watercolor, ink, pen, prints, sketches or graphic art. All the art will be auctioned on January 28th.
Art Submission Requirements:
Hanging Info: pieces need 1-2 hooks & taut braided picture wire
Size: no larger than 11×14 inches (with some exceptions)
Value: within the $50-$200 range.
Delivery date: all pieces need to be at Irene's Pub by December 30th.
Donor Form: You can pick yours up at the pub, or fill it out when you bring your piece in.
Questions can be sent to Patricia Golding at giddy-up@rogers.com. Please use "auction" in the subject field.
---
I'm going to create a piece of art for this event, and I hope some of you will consider it too. It's all in fun, it's for a good cause, and you don't have to be a "real" artist or anything like that. (I know some of you are thinking it's a lovely concept but it's going to be a pretty awful art show. However, there are some excellent artists who hang out at Irene's.)
TAGS: