I was out for dinner at Pub Italia with Rebecca last night, and she asked about my New Year's Resolutions. I hadn't even thought of resolutions this year. I don't always make resolutions, and I certainly never keep them, but I at least think about them.
But here I am, right down to the wire, scrambling to think of ways I could deprive myself to make my life even better in 2009.
I'm kidding about depriving myself. I used to have those kinds of resolutions. You know – giving up stuff I loved because it was bad for me or forcing myself to do stuff I hated because it was good for me.
Not anymore, though. I'm taking a revolutionary new approach to resolutions. From now on, my resolutions are all about helping myself do the things I want to do. For example, I want to spend more time in creative pursuits, so I'm going to take an art course. And I want to write a book, so I'm going to try to figure out what to do about that. (But I'm stymied. I know how to write and I have everything I need except a really good idea. I just don't know how to get one of those to come bubbling up to the surface.)
So what about you? Tell me your resolutions. What do you want and what steps are you going to take this year to get it?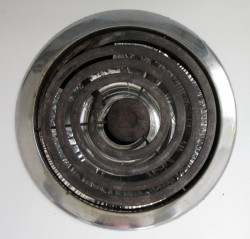 By the way, on a completely unrelated note, did you ever wake up in the morning and discover that while you were sleeping somebody else replaced all the tinfoil burner guards on your stove? Don't you think that's hot?
TAGS: