Many thanks to all of you who voted for Knitnut.net in the first round of the Canadian Blog Awards. You catapulted this blog onto the short list in three categories! I was very pleasantly surprised by that, and I thank you all warmly from the bottom of my heart.
We're now in the second and final round of voting. Just cast these last three votes and then I promise you we can get back to voting about more important things, like Neil Diamond vs. Oatmeal.
Please vote in all three of these categories:
Best Personal Blog
Best Local Blog (go Ottawa!)
Best Activities Blog
Thank you, thank you, thank you.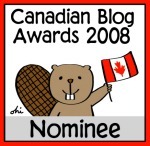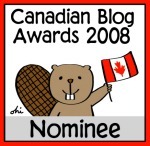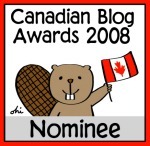 While you're over there, poke around some of the other categories too. Watawa Life is in the final round for Best Photo Blog, XUP made the cut for Best New Blog, Party of 3 and Don Mills Diva are both still in the running for best family blog, Salted Lithium's up for Best Health Blog, and the Yarn Harlot has an excellent shot at winning Best Blog again this year.
TAGS: