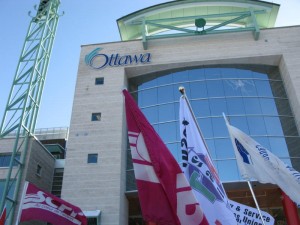 I spent a frosty lunch hour at City Hall today, at a rally to support the striking OC Transpo bus drivers and mechanics.
I don't even care if the City's offer was fair. No trade unionist with any sense of what it means to be a trade unionist could possibly, in good conscience, have voted yes under those circumstances. It has nothing to do with the offer and everything to do with the tactics used by Mayor Larry.
Speaking of Mayor Larry, it seems he found yet another thing to be profoundly bad at: labour relations. He was so sure he had his finger on the pulse of the members of ATU Local 279 that he wasted weeks trying to bypass proper channels and circumvent a legitimate collective bargaining process.
He spent his time and energy on everything but legitimate collective bargaining: waging a smear campaign against the union's leadership, campaigning for public support, taking out full-page ads in the papers, commissioning a public opinion poll, lobbying the feds to take sides, and ultimately forcing a vote that only proved he was wrong. Again.
Mayor Larry has a history of getting his own way by circumventing legitimate processes. Look at how he got his job: bribery and influence peddling (trial pending). I'm grateful to the bus drivers and mechanics for not letting him get away with it this time.
Everybody who spoke at today's rally was calling for an immediate return to the bargaining table and a fairly negotiated end to this strike. It's what we all want, whether we're bus passengers, bus drivers, car drivers, business owners, employers, students, whatever. We all want the buses running.
Hopefully Mayor Larry wants it enough to start respecting the process now instead of continuing to avoid it. Time will tell.