I got this annual recapping idea from Rachael at Yarn-a-go-go.
January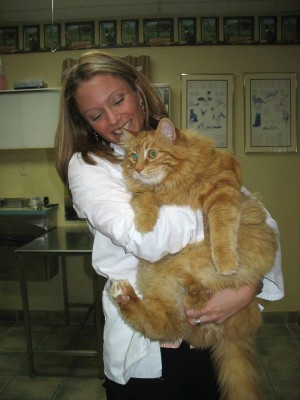 Duncan and I adopted each other, I went on a business trip to Toronto, and Mayor Larry thought he was a rock star when he got booked on charges of bribery and influence peddling.
February
I won second prize in a beauty contest. Ha ha! No I didn't. I won second prize in the 2007 Canadian Blog Awards for Best Post. My band, The Blue-Eyed Hermits, was formed and I finished knitting the Three-Year Sweater.
March
The winter from hell raged on and Mayor Larry tried to screw us with a snow tax. I bought my first piece of art and I got my Mojo Kit! It was determined that Duncan is a Norwegian Forest Cat. He was incorporated into a piece of street art, and he caught a mouse.
April
My sister and I escaped the winter from Hell by visiting my dad and Merle in Florida. Duncan, meanwhile, vacationed on Elgin Street with the Fourth Dwarf. Spring finally sprung. I started going to the gym every morning before work. Ottawa's drug problem was getting a lot of attention. Duncan removed his winter underwear and I knit some baby stuff.
May
May was an unusually uneventful month. I went on a mini vacation to southern Ontario and Mayor Larry started a blog. I didn't run the marathon again this year.
June
I celebrated Donna's graduation and Stuart's visit from Thailand. I went to Westfest, and the Italian Festival. The Fringe Festival hosted a wine and cheese for bloggers. Bob died. I left for Haliburton and stopped going to the gym.
July
I took 5 and a half weeks holidays. I spent two weeks of it taking art and guitar courses in Haliburton . Ottawa's crime rate fell (sheer coincidence, I assure you). I fell in love and Duncan peed on the object of my affection's shorts.
August
I threw my back out and finally created a piece of art I liked. Blogging ennui settled upon the Ottawa blogging community like a fine grey dust, I lost two tickets to the folk festival, and we had an illuminating discussion about little pink pills. Zoom made headlines.
September
There was a blogger's breakfast, I got rid of four wasp nests and visited Montreal. I saved a life but Marion Dewar died. I went to the Sex Trade Workers' Rally and Duncan peed on the bed again. I celebrated Rosh Hashana.
October
I took my favourite picture of the whole year, invented Hard-to-Spell Pizza, taught GC how to knit, voted, participated in Blog Action Day, found myself in a sea of zombies, turned old, got a facial, and went to see the Cirque du Soleil's Corteo.
November
I went to the Ferret Frolic, was captivated by Ivan Coyote, issued the Blueberry Challenge, bought a Davy Crockett hat, attended Ottawa's first TimeRaiser event, went to the Homelessness Forum, met Max, and bought Mother, This is Howard. Duncan was featured on Tank Top Tuesday. Stogie died.
December
I went to the Neil Diamond concert, watched hopefully as the Conservative government came within a whisper of toppling, got lucky at the Chandler Swain Christmas sale, endured the bus strike, stood up to a bully, won some beavers, bought a Mac, created art for an art show, spent Christmas Eve at the Shepherds of Good Hope, made turkey, leftover turkey, turkey sandwiches, curried turkey and turkey soup, and went to Janet and Kate's New Year's Eve party.
TAGS: