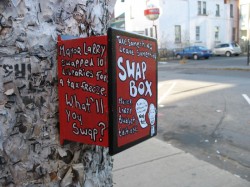 Elmaks contacted me recently to let me know that there's a Swap Box movie in the works! A short film, actually. He and the filmmaker are seeking input from Swap Box users: they want to hear your Swap Box stories. Find out more at the brand new official Swap Box blog.
I miss having a Swap Box somewhere along the route I walk to work. Swap Boxes come and Swap Boxes go, and right now there aren't any in my life. While it makes me sad when one disappears – especially one that I visit daily and feel personally connected to – I try to remember that the ephemeral nature of the Swap Box is integral to the concept.
For those of you who are unfamiliar with the concept, Swap Boxes are a form of interactive street art. They can be made and installed by anybody. They are small hand-decorated boxes, attached to public places like telephone poles or boarded up storefronts. Instructions are usually written on the Swap Box: Take Something, Leave Something. So you peek inside, take something you like – maybe a bus ticket or a finger puppet or a sketch on the back of a business card – and then you rifle through your bag to see what you want to leave in its place – maybe your secret decoder ring or a quarter or a red pencil.
My favourite Swap Box was the Mayor Larry Swap Box on Lisgar near Bank Street. Every day for several months I left one of my own Artist Trading Cards in it. I always wrote my blog address on the back of the cards. One day an art student found one of my ATCs in the Swap Box and she contacted me and told me she was leaving a print in the box for me. I still have that print on my wall.
The Swap Box concept originated in Ottawa with Elmaks, who has been building and installing swap boxes for a few years. He encourages others to build and install swap boxes too, and now Swap Boxes can be found around the world.
What I love best is the serendipitous nature of the whole thing, the random connections to other people. We pass each other wordlessly, avoiding contact, as we slog our way anonymously through the urban landscape. We're all so isolated in the crowd. The Swap Box is a rare point of connection, a place where we can safely share a tiny bit of ourselves with some random fellow traveler in the endless stream of strangers.