Dr. Samantha King, author of Pink Ribbons Inc.: Breast Cancer and the Politics of Philanthropy, spoke about the commercialization of breast cancer at the Centretown Community Health Centre last week.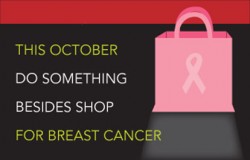 She noted that it wasn't so long ago that breast cancer carried considerable stigma. Efforts to bring the disease out into the open were highly successful, and the stigma soon gave way to the disease becoming the darling of marketers, who now compete to have their products associated with the pink ribbon campaign.
Even though heart disease and lung cancer are much more prolific killers of Canadian women, breast cancer benefits from not having its causes fully understood. There's very little victim-blaming in breast cancer, since we don't know what causes it. Unlike lung cancer and heart disease patients, women with breast cancer are seen as 'innocent.'
In recent years, women with breast cancer have acquired – or had foisted upon them – a positive image of 'survivorship.'
As Dr. King pointed out, the cheerfulness of breast cancer culture can be very alienating for those women who either can't afford to participate in it or who are dying (the campaign does not acknowledge death), or for those who don't identify with the Pink Ribbon image of a woman with breast cancer, which is generally white, young, well-groomed and upbeat.
Not only that, but the Pink Ribbon Campaign doesn't raise as much money as you might think once overhead is factored in, and it hasn't had an impact on breast cancer rates or mortality rates. While it does raise awareness, perhaps it's only a very superficial and not quite accurate awareness.
Collectively we donate a lot of money to the Pink Ribbon campaign, and it makes us feel good but do we really get good value for it? Are the marketers deceiving us? Is our money going where it's most needed? What's most needed, according to Dr. King, is more research, better breast cancer treatments, and more emphasis on prevention (some products are directly linked to breast cancer – do we know what they are? Some of them are products that actually sport the Pink Ribbon logo See Breast Cancer Action for more info.).
I'd never thought about any of this until I heard Samantha King speak. I've run in a couple of races to end breast cancer myself, and I've sponsored other women who were running in them. I've always associated the Pink Ribbon with positive things, such as supporting women with breast cancer, looking for a cure for breast cancer, etc. I've always been touched by the imagery and the whole survivorship thing, and I've never questioned any of it until now.
It was quite the eye-opener for me.