My internet connection through Sympatico has been down a lot over the past few days. My phone line could be down for a week before I'd even notice, but when the Internet goes down, I know.
So…what to do when you're pretty much confined to your couch and the internet is down and you don't have a TV? Read, write, sleep and…
Knit! I've cast on a little hat for Bella, the first member of our family's next generation, who is scheduled to make her debut in November. I bought some luscious Araucania yarn to make a wee shrug for her. I want to make some socks for her tiny little feet too.
(Every time the Internet comes back up, I interrupt my knitting to rush over to ravelry.com for a fix of knitting fantasies and fiber lust.)
I couldn't sleep last night because of the pain. Usually it's in my left leg, but last night it was in my right leg too. It hurts worse when you're just lying there with nothing to do but feel pain, so I got up and checked on my knitting. I'd accidentally started the hat on 4mm needles instead of 3.75mm needles, so I searched my stash for 3.75mm needles. You know what's worse than not finding any 3.75mm needles? Finding one 3.75mm needle.
I also came across a number of almost-finished projects that I ought to finish before I start anything new. The Central Park Hoodie. The Nashua basketweave vest. The yoga mat bag. GC's scarf. Not only that, but I've got yarn for several projects I haven't even started yet, including a gorgeous Mission Falls sweater that I'll probably never make because I've sworn off fair isle knitting. It's the one on the cover of the Mission Falls Decade pattern book.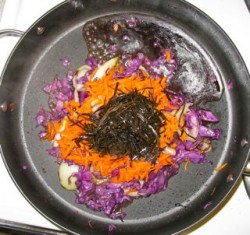 What else is new? I cooked and ate some seaweed mixed with onions and cabbage and grated carrots and sunflower seeds. It wasn't that bad. (It wasn't that good, either.) I'm trying to bolster my immune system and top up my nutritional reserves before the next phase of treatment, which will probably be chemo.
I had my final appointment with the cancer surgeon yesterday, but there wasn't much to it since the pathology report hadn't come in yet. There was nothing for her to do except look at my breast and admire her handiwork.
I tried to get her to use her considerable influence to urge the neurosurgeon to make me a priority, but she said she couldn't because my back problem was unrelated to the cancer. She did say, however, that it'll likely be resolved in months, not years, so that was encouraging.
Basically, here's where things are at on the back front:
1. The neurosurgeon accepted my doctor's referral, and his office will call me someday to schedule an initial appointment. ("Please be patient," the letter said, "as wait times vary.")
2. Eight days ago I emailed my MP, Paul Dewar, and my MPP, Yasir Naqvi, and asked them if they could do anything to help me. No response from Dewar yet. Naqvi's office asked me for my phone number so he could phone, but he hasn't yet.
3. A few days ago I contacted the woman who laid me off, who is very well connected in the health field, and asked her if she could help. She said she knows the neurosurgeon and would call his office.
In the meantime, I'm just sitting here eating seaweed and knitting and waiting for the phone to ring. Ho hum.