1. The Ebay auction for the Great Big Zucchini in the Little Wee Bikini is ending today around noon. There have been four bids so far, with the current bid standing at $2.22. People! At $1.79 a pound, this zucchini is worth at least $9.12! Not to mention the original bikini by Ottawa designer Julia Ringma, which is priceless!
2. Speaking of giant zucchinis, Grace dug up this picture of herself and her giant zucchini from back in the day. My zucchini and I think Grace and her zucchini are adorable.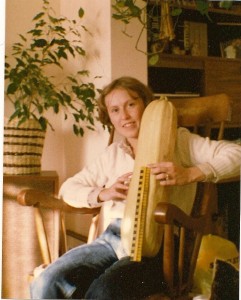 3. Blog Out Loud Ottawa was held on Thursday night at Raw Sugar, and it was a lot of fun. I loved listening to the stories. Some of them were hilarious, and others were sweet. If you wish you could have been there, the full list of links to the original blog posts is on the BOLO blog. Many thanks to XUP who was kind enough to share her top-notch public speaking skills with me. She did a terrific job of reading my post, The Dead Dave Wall, for me. (Her own post, Tomato Soup, delivered in a a slightly sultry, slightly southern accent, was superb.)
Okay, I have to go stake some giant tomato plants now, and then go eat a bowl of grizzled tendons or something at Dim Sum. Have yourselves an excellent Sunday, and don't forget to bid on that zucchini before noon. You know you want it!
---
P.S. Happy Birthday Dad!