Yesterday we celebrated the birthdays of my niece and nephew – Mudmama's kids – who are visiting from Nova Scotia.
My favourite line from the day came from Wild Thing, who is actually a very sweet little thing.
I forget exactly what he said, but it was while we were filling our plates at the counter. He said something uncharacteristically impolite, like "Get out of my way."
Mudmama said "Excuse me?"
"I wasn't really saying 'Get out my way,'" said Wild Thing sweetly, "I was just pretending to say it."
I'm going to use that line someday.
Here's my favourite picture of the day. This is Sprout, eating strawberry shortcake.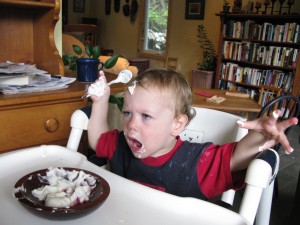 And here he is showing GC his belly.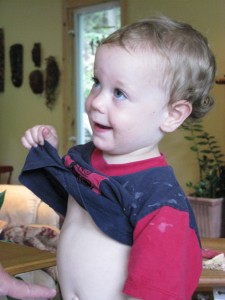 Speaking of showing GC your belly, GC relates the following story which happened a couple of days ago when he popped in to visit someone with a seven-year-old son. We'll call that person Buck, and we'll call the kid Bubba.
Buck showed GC his new drill. "It's great," he said, "Holds a charge for 18 hours!"
Then he laid the drill down on the counter. Bubba picked it up, stuck it in his belly button, and squeezed the trigger.
"EEEEEEEEEE!!!" screamed the drill.
"STOP!" screamed GC.
"Ha ha ha ha ha!" laughed Bubba.
"Ha ha ha ha ha!" chuckled Buck.
"Maybe you shouldn't let him play with power tools," said GC.
"Oh, he'll learn his lesson one of these days," grinned Buck, "When it catches."
---
In other news, did you see the sun is shining? I haven't much noticed the weather this summer, since I hardly ever leave my couch. If it weren't for Facebook status updates and giant zucchinis, I probably wouldn't even know this is the first sunny day this summer.
This week promises to be interesting. Wednesday is GC's birthday! We're still thinking about how exactly to celebrate it. It's also the day Ex-Mayor-Larry's verdict will be handed down. Unfortunately I can't be in the courtroom for that, since I have my first appointment with the neurosurgeon that morning. Hopefully he'll look at my MRI report and tell me he can fix my back and legs. Soon.
Thursday I'm having my second, and hopefully last, cancer surgery. After that I'll be turned over to the oncologists for whatever further treatment is deemed advisable.
I think it's going to be an excellent week for me, and hopefully for you too.