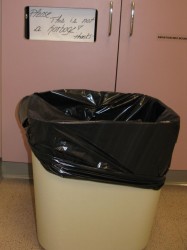 I met my medical oncologist, Dr. Song, for the first time this morning. It's kind of like going to the dentist, where you spend 45 minutes with the hygienist and five minutes with the dentist. In this case I spent 45 minutes with a resident and five minutes with the oncologist.
I had trouble understanding the resident because of his accent, but he was competent and thorough and didn't seem to mind repeating himself when asked.
There wasn't a lot of new information today; it was more a matter of them pulling together all the bits and pieces from the last six months, and making recommendations.
My cancer is considered gone.
Further treatment is directed towards the goal of preventing a recurrence.
With radiation but no further treatment, there is a 17% chance the cancer will recur (I didn't think to ask at the time whether this was a timed prediction – ie within five years)
Chemo would provide me with a slight reduction in risk, but the benefits do not justify the risk. So NO CHEMO!
Hormone treatment – Tamoxifen – will further reduce the risk of recurrence from 17% to 11%.
All women face a 10% risk of contracting breast cancer, so my risk – with radiation and Tamoxifen – would be only slightly higher than anybody else's.
Hormone treatment consists of taking a pill a day for five years.
The serious side effects of Tamoxifen include a 3% risk of potentially fatal blood clots in the legs or lungs, and a 1% risk of uterine cancer. There are other more common but less spectacular side effects, such as hot flashes, vaginal dryness and weight gain.
The oncologist recommended that I start taking Tamoxifen as soon as my radiation therapy is over. However, the choice is entirely mine and I'm not entirely sure I want to do it.
A 3% risk of blood clots is not insignificant. The risk is greater for sedentary people and hopefully I'll be active by then, as my spine surgery is a week from today. But Ottawa's favourite bicycle courier, Frank Plummer, died of a blood clot at the age of 40, and he was a marathon runner.
If Tamoxifen gives me a six percentage point advantage with respect to breast cancer, but a 4% disadvantage with respect to blood clots and uterine cancer…well, doesn't one practically cancel out the other?
These are things I need to consider when making my decision.
Still. Tamoxifen or no Tamoxifen is a good problem to have. I remember when I first got diagnosed, Lori was saying reassuring things about treatment, and I turned to her and said "Honestly, I don't care about the treatment. I just want to live. I will happily do whatever it takes to survive."
And I meant it, absolutely. Mastectomy, chemotherapy, radiation, side effects, whatever it takes. I've been incredibly lucky that it has taken so little.