But, like many people, my enthusiasm for my green bin is being contaminated by all the controversy about how this program should be funded. The City's Planning and Environment Committee has endorsed a proposal that the entire cost be paid by homeowners in the form of an annual user fee of $195 for garbage collection and recycling (up from $86).
First and foremost, I don't like this stealthy approach to taxation. If you want to increase my taxes, then look me in the eye and tell me about it. Don't start filching money out of my pocket for various extra fees and special levies and so on. A flat fee for a compulsory municipal service is just a sneaky form of taxation.
This all started a couple of years ago when Mayor Larry came up with the ridiculous idea of charging us all a $50 snow tax because it snowed a lot that year. Never mind that he'd squandered the budget surplus on his self-serving and short-sighted election promise of no tax hikes, leaving no contingency money for something as improbable as a snowy winter in Ottawa. Everything was all about 'zero means zero' that year, so in order to hold the 'official' tax increase at zero, he tried to sneak a special one-time snow levy per household past us.
I didn't buy it then and I don't buy it now. If Council is going to approve new programs, it should be incumbent upon them to figure out how to pay for them when they're approving them, not months or years later when they're implementing them. If that means higher property taxes, so be it. I am willing to pay higher taxes for worthwhile public programs. But I am absolutely opposed to being hit up for an extra $50 here and $68 a year there while politicians pretend they're not hiking my taxes.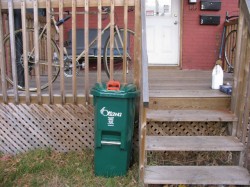 Another thing. Why is the cost of the program being absorbed only by people with green bins? As I understand it, businesses, along with people who live in the country or in apartment buildings, would be exempted, on the grounds that they wouldn't be using the program, and therefore not benefiting from it.

Huh? Aren't they benefiting from the fact that the rest of us are using it? We need the Green Bin Program in order to divert more waste and extend the life of the landfill, which will save us all money in the long run.

I don't see what special benefit I personally will derive from putting my organic waste in a bin on the curb. It's a public benefit, not a personal one, therefore it should be a public expense.

Final point. I live alone. Why is this proposed fee being assessed on a per-household basis rather than a per-citizen basis? I generate about half as much waste as a two-person household…maybe a little more. The proposal will see me paying $195 per year for garbage collection and recycling. Yet someone who is married will pay half as much as me. Is it fair that I, a single person, should be subsidizing couples and families? No. It is not.

I don't mind paying for the Green Bin Program, but the issues of paying for it should have been resolved long before the bins were distributed. To do both things simultaneously just pisses people off and makes them hostile towards the program itself, at exactly the time we're being asked to embrace and commit to it. Personally, I'm going to separate the two issues and embrace the program. But lots of people aren't and that's a shame.

I got my Green Bin yesterday and I like it. A lot. The program sounds good too – from what I understand, the high temperatures achievable by the huge volume of our collective organic waste is going to make this a very efficient way of breaking down garbage. All kinds of stuff can be composted under these circumstances, including, for example, used kitty litter. Yay.