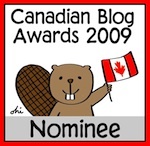 It was a year ago today that the Bank Street Bully incident happened. The ensuing police investigation fizzled out and, as far as I can tell, there were no real consequences to Constable Eric Post.
But I like to think that the blog post was a consequence. The story got around. And now, one year later, Bank Street Bully has advanced to the final round of voting in the Best Blog Post category of the Canadian Blog Awards. I think a little poetic justice would be served if it won Best Blog Post, don't you? (Vote for Best Blog Post here.)
Also, Knitnut.net has advanced to the final round of voting in Best Personal Blog! Thanks so much to all of you who voted. There are ten blogs on the short list, and I would love it if you would go check them out, and vote, one last time. (Vote for Best Personal Blog here.)
I was thrilled to see that Robin Kelsey's blog, Watawa Life, is on the short list for Best Photo/Art blog. And Milan's blog, A Sibilant Intake of Breath, is poised to win Best Science/Technology blog. Turtlehead and Postcards from the Mothership both advanced in the Family category. Apt. 613 and the Mindful Merchant have a shot at Best New Blog. (Did I miss any local blogs?)
There were a few disappointments too, as some of my favourite blogs didn't advance to the finals. But some of the categories were HUGE this year – there was a lot of competition. And the voting system was kind of wonky.
You can peruse all the nominated blogs and vote here. My understanding is that you can vote daily. (Or perhaps even more frequently, if you're so inclined. The voting system's still kind of wonky.)