I'm a little concerned about Duncan.
There's irrefutable evidence of a mouse in the house, but Duncan seems either oblivious or indifferent to it. The mouse is running roughshod all over the basement, which Duncan visits several times a day, since his litter box is down there. The mouse even destroyed a gorgeous wool sweater, while Duncan sat back placidly and did nothing.
The sweater was my fault. I left my hand laundry in the basement for quite a long time, waiting, I suppose, til I was seized by an irresistible urge to do hand laundry. The urge took months to arrive, and it wasn't really so much as an urge as it was a nagging sense of guilt combined with a desire to wear things in the hand laundry pile.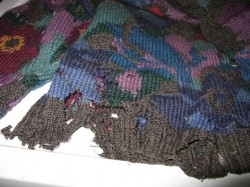 But when I picked up the sweater, I saw that it had been irreparably damaged by a small rodent with sharp pointy teeth and a fondness for wool.
This wasn't the first evidence of the mouse. I'd seen mouse turds on top of the little table in the laundry room. I knew he was down there. I figured Duncan would take care of him, just like he took care of the 2008 mouse.
After I found the sweater, I sat Duncan down and tried to have a serious talk with him.
"Is there a problem?" I asked. "Can you see okay? Do you need glasses?"
Duncan yawned and snuggled up and wrapped his arm around me.
"Is it a workload issue?" I asked. "Do you need an assistant?"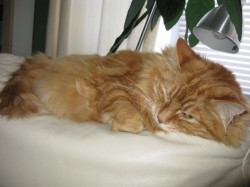 Duncan dozed off.
I think that might be the problem. Duncan sleeps a lot. Probably somewhere in the neighbourhood of 20 hours a day. That leaves him only four hours to eat, go to the bathroom, cuddle, play with his toys, throw up, get high on catnip, look out the window, trip people on the stairs, shed, and demand extra food.
Personally, I have about 16 hours a day to do stuff, and there still isn't enough time to get everything done. Duncan has far less free time than I do, so maybe I'm being unreasonable by expecting him to catch mice. Perhaps it's time to buy a mousetrap.