didn't
care?
I've been to poorly attended demonstrations before, and they can leave you feeling a little deflated. And this one? This one was so important, not just for democracy in Canada but also because it was a test of whether activism on the Internet means anything at all. I don't think anybody knew for sure before yesterday.
So when GC and I emerged from Metcalfe Street onto Wellington, and saw the throngs of people streaming onto Parliament Hill, I felt a combination of relief, joy and hope.
It turned out to be a great rally. There were some interesting speakers (I especially liked the passionate 17-year-old documentary film-maker who told Stephen Harper that if he didn't want to lead, he should get out of the way, because there is so much critical work to be done, particularly on the environment, and no time to waste). There were some funny signs ("I prorogued the dishes to be here. Now get back to work."). There was top-notch music (The Raging Grannies, and Trevor Strong from the Arrogant Worms, among others). There were puppets and flags and sunshine.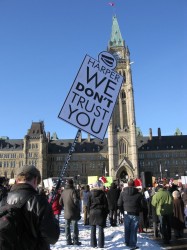 But mostly it just felt good to witness such a strong display of activism among Canadian youth, and to be in the company of so many people who care about democracy, the environment, and Canada. It was a surprisingly non-partisan event, which I liked. Democracy belongs to the people – all the people.

Like Coyote said, it wasn't perfect, but the imperfections made it all the more authentic. This was youth-led grass-roots activism at its very best. Thanks to everyone who had a part in organizing it, and to every single person who showed up and got counted, including local bloggers Dr. Dawg, Nat, Finola, Milan, Ottawa Rambler, and Coyote.

Here's my video of Trevor Strong singing his new anti-prorogue song, followed by Canada's hilarious unofficial national anthem, We Are the Beaver. I thought I had split the video into two separate videos, but evidently not. If you just want to see the Beaver song, fast forward to about the 2 minute and 45 second mark. That song totally cracks me up.

I have to admit, I was worried. What if Stephen Harper was right? What if Canadians really