I have a soft, sweet place in my heart for crepes. So when I heard about a new crepe restaurant in town from Nelly's blog, we wasted no time checking it out.
Crepella's – despite its unfortunate name – makes wonderfully yummy crepes. They use only fresh ingredients, and they prepare the food in front of you. They have a selection of savory crepes and a selection of sweet crepes, as well as waffles and smoothies. We watched Mike the crepe-maker make some sweet crepes with strawberries and bananas and custard and chocolate, and we were very tempted to order those. But after much poring over the menu and discussion of the options with Mike, GC and I both decided on savory crepes.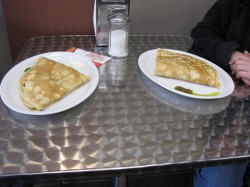 I had the Michel, which is chicken, cheese, avocado, tomato and lettuce. It was fantastic. GC had the Josephine, which includes feta cheese, spinach, tomato, cucumber, black olives and tzatziki sauce. He looked deleriously happy and wasn't able to say much more than "mmmmmmm" for the first few minutes.
These crepes were seriously delicious.
The other customers around us seemed more than happy with their meals too. The prices were reasonable, with most crepes costing $7 or $8. The restaurant itself is tucked away in a strip mall, and doesn't look like much from the outside, or from the inside either. It's small, clean, and comfortable enough, and it doesn't pretend to be fancy. It's just a humble little place worth going to if you love a good crepe. It's new – only six months old – so it's still working at building up its clientele, mostly through word of mouth.
If this post seems a bit like a restaurant review, it's because GC and I inadvertently cast ourselves in the role of restaurant reviewers. Since the crepes get made in front of the customers, GC photographed the making of the crepes, which led Mike to ask us what the pictures were for. GC told him about the blog. He got a little carried away. ("Hundreds of people read it every day," he said, "And they're all going to come here to eat!") I think it made Mike a bit nervous, actually. We then tried to downplay the whole thing, explaining it wasn't a food blog and we weren't food reviewers, but it was too late. From Mike's perspective, we were there to eat his food and publicly judge it on a popular website.
He needn't have worried, of course, because his crepes are delicious and besides, nobody cares what we had for lunch.
After we finished eating, Mike gave us his card, took mine, and said the meal was on the house. But we wouldn't hear of it. As long as we were cast in the role of fake food reviewers, it would be unethical for us to accept free food. Besides, Crepella's is a good, small, independent restaurant trying to establish itself in a tough economy, and we want it to succeed. Maybe someday, after Crepella's is solidly established because hundreds of you went there to eat, we'll let Mike treat us to a crepe.
Crepella's is located at 2440 Bank Street, which is at Tucson's Mall, around South Keys. (I know that's at the other end of the universe, but it gets bonus points for being one of the few places you can take the O-Train to.) They're open all day in case you get a hankering for a crepe outside of normal brunch hours. If you do go, tell Mike that Zoom and GC sent you.