You know, I have no trouble wading into controversial political waters and sharing my opinions on all kinds of subjects. I'll talk about crime, drug policy, our idiot mayor, unions, poverty, social programs, welfare cheating, public spending, the bus strike, whatever.
But I've been reluctant to say what I think about the deeply divisive issue of strollers on the bus. I mean, who wants to take on either motherhood or disabled people?
But the stroller thing has become a perennial problem and I don't think it's going to go away until we solve it. The parents won the last round, which was just a few months ago. It's back again, and this time it has been framed as the seniors and people with disabilities versus the parents. I'm not sure this is the most helpful way to think about it. The problem is not parents or babies or people with disabilities or old folks or any animosities between these groups. The problem is we're trying to make buses and strollers do something they weren't designed to do.
As much as I love babies, and as much as I support the rights of parents and babies to ride the bus, our current buses were not designed to safely accommodate those big-ass stroller systems. They're hazardous. Not just for the elderly and the disabled, but for all of us, including the babies. People are trying to navigate through this obstacle course of strollers, walkers, wheelchairs and shopping carts while trying to stay upright on a poorly designed lurching bus that doesn't have enough things to hold onto. (This is especially true at the front of the bus, and especially if you're short, like me. I can't reach those bars that run along the top). People are tripping and falling. It's only a matter of time till someone falls on a baby. This would be awful of course, but it's awful anyway that we're falling down on the buses, even if we're not taking out babies.

I think we need to look to history for solutions to this problem. I used to ride the buses with my baby, back in the 80s. I wore him in a Snuggly until he got too heavy (about four months) and then he graduated to an umbrella stroller. The rule back then was that you could bring an umbrella stroller onto the bus, but it had to be folded. That's what we did. And I don't remember there being all this controversy about it either. Maybe it wasn't perfect, but it made sense and we all managed to live with it.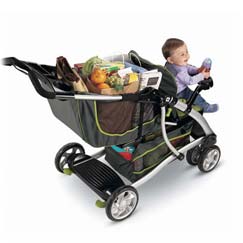 I don't doubt that it's a lot harder to fold and carry today's massive stroller "systems" that convert from stroller to car seat and whatever else. Why not use your stroller system for all other purposes, but use an umbrella stroller on the bus? It's small, it's light, it's easy to fold, it's cheap, it's easy, and it doesn't take up half the bus.
In the longer term, I think we should be designing buses with strollers and walkers and wheelchairs and shopping carts in mind. Maybe all these vehicles and wheeled devices should be getting on the bus via a back door, and using the back of the bus, so everybody else doesn't have to navigate through them. It's having to get through them that makes them so hazardous.
I can't imagine that we're the only city with this problem. How are other cities dealing with it?